How does Addison Lee compare with Uber?
This post contains references to products from one or more of our advertisers. We may receive compensation when you click on links to those products. Terms apply to the offers listed on this page. For an explanation of our Advertising Policy, visit this page.
This story has been paid for by American Express, but the opinions are those of the author and TPG. This is one way TPG continues to provide our readers with free news and advice about travel.

Official application link: The Platinum Card from American Express UK — Earn 30,000 bonus Membership Rewards points if you are approved and spend £4,000 in the first three months of cardmembership.
The Platinum Card from American Express UK comes with a new benefit in that you'll receive a £10 Addison Lee credit each month when you book a car and pay with the card. You may be familiar with popular rideshare service Uber, but be less familiar with Addison Lee. So how do they compare?
I did a quick trip on both to find out.
Addison Lee has an app very similar to Uber, though it's designed more for advance bookings than on-demand pickups. During my experience, there was a minimum pick-up time of 35 minutes from the time of booking, but I could easily book in advance. So, I chose to book in one hour for the short journey.

Addison Lee is especially handy for airport journeys, as you are likely to have a specific pick-up time that you want to confirm in advance.
For the time of my booking, I was advised that off-peak fares were available, and like Uber, I could choose any credit card from my wallet to load into the app. I also had the option to pay with cash if I preferred. There were various vehicle types from Select up to Executive.

I chose a Select car, confirmed the booking time and was quoted a very reasonable £8.45.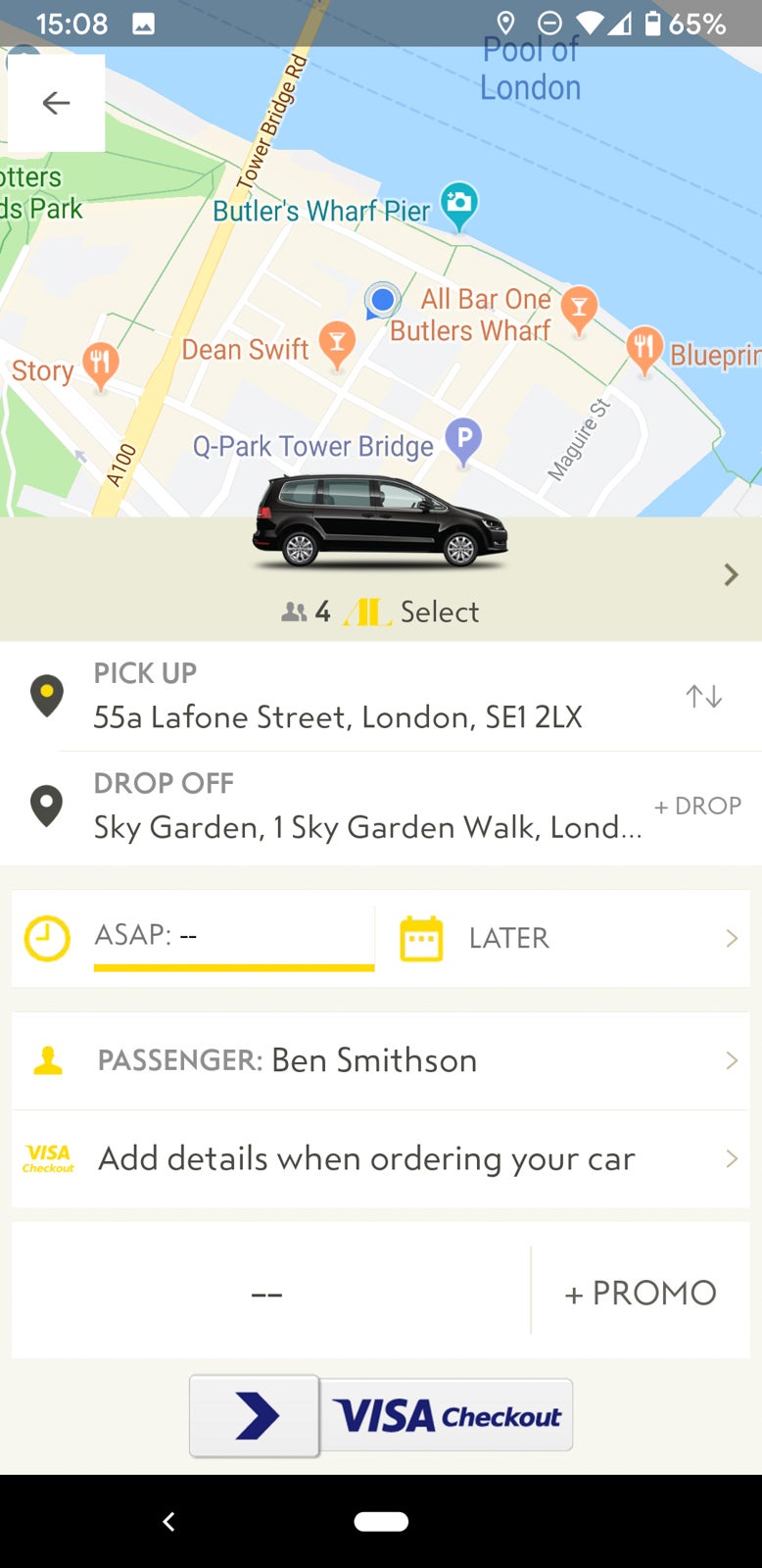 I ordered the car and was then advised I would be updated when it was on its way.
When the driver was on the way, it appeared on the map with an estimated arrival time, driver contact details and vehicle details.

Unlike Uber, my Addison Lee car was branded as such, so it made it very easy to spot without having to match up the number plate. A black van arrived, which seems to be the standard Addison Lee vehicle.

Inside the van was clean, and the driver was well presented. There was plenty of space in the van.
Overall, it was a seamless experience, and I found it to be pleasant especially for when you plan ahead.
Uber also has an app and during my testing, it offered up even more vehicle types, which varied in size, wait time and cost.


I chose an UberX, the cheapest and most common option for immediate pick-up, and it arrived within a few minutes. The equivalent car size for Addison Lee was probably an UberXL.
Because of high demand, a surge price of 1.3x was applied, so the fare ended up costing around £1 more than the Addison Lee fare.

My ride was a white Prius and while much smaller than the Addison Lee van, it was also very clean and the driver very courteous. The actual drive itself was very similar.

Bottom line
While Uber might be the more recognisable name for its services across the globe, Addison Lee is a fair and comfortable alternative when you're in the UK. If you're looking for a planned trip, Addison Lee's ride scheduling service becomes even more valuable. Add in the fact that the Platinum Card comes with a £10 credit to use every month with Addison Lee — £120 total for the year — and you have more reason to try out the service.
To get your £10 monthly Addison Lee credit, you can apply for the Platinum Card from American Express here.
Sign-up Successful!
Welcome to The Points Guy!