From budget to luxe: 9 New York City hotels where you can use points
This post contains references to products from one or more of our advertisers. We may receive compensation when you click on links to those products. Terms apply to the offers listed on this page. For an explanation of our Advertising Policy, visit this page.
Like most of us, New York City has had quite the year.
After being hit very hard by COVID-19 in the spring, New York City has slowly begun to reopen. Still, Broadway remains dark, there are restrictions on many out-of-state visitors, a large number of restaurants are still shuttered and even some major hotels (including several on this list) aren't welcoming guests.
Hotels that are open often have lower cash rates than normal, so if you're travelling in the near future, cash (or fixed-value points) may be a better return than points at some properties.
So, while New York City may not be at the top of your 2020 travel destination list, we all know the City That Never Sleeps will one day fully reawaken. It's also likely that, when that happens, cash rates will rise and points will again be extremely useful for a trip to New York City.
In the interest of looking forward and pencilling in future travel plans, here are some of the best points-friendly hotels in New York City.
Moxy NYC Downtown

There are a handful of eligible hotels where you can cash points in for a free night. One of these Category 5 hotels is the funky, hip Moxy NYC Downtown on nights when it's pricing for 35,000.
This is a newer hotel built in 2018, and your 30,000 to 40,000 Marriott points per night can get you into a room with one king or two queen beds. While you're in the area, you'll be close to visiting One World Trade Center, the National Sept. 11 Memorial and Museum, the South Street Seaport and the Brooklyn Bridge.
Related: Review of the Moxy Times Square NYC
AC New York Times Square

Another solid, functional points-friendly option in the city is the AC New York Times Square.
Sadly, this one jumped up to a Category 6 property this year, but it's still a decent value. Despite its name, this hotel isn't really in the heart of Times Square — which can be a good thing. The AC is on 40th Street, between Seventh and Eighth Avenues, and is home to a nice rooftop bar. Here, you're an easy walk to Times Square, Herald Square, Bryant Park, Penn Station and several major subway stops.
A room with one king or two double beds will cost you 40,000 to 60,000 Marriott points per night. During normal times, paid rates are often upwards of $300 (about £234) per night.
TRYP Times Square South

Another great budget-friendly award redemption also has a Times Square name, though TRYP Times Square South also isn't in the heart of the typical Times Square madness.

What makes TRYP Times Square South great on points is that you can sometimes book a family room that sleeps eight people for the same award price as a room for one or two guests. For 30,000 Wyndham Rewards points per night, you can potentially bunk up the whole crew here and stay on 35th Street between Eighth and Ninth Avenues, which really isn't Times Square, after all.
Hyatt Andaz 5th Avenue

The Andaz 5th Avenue by Hyatt is a boutique hotel, which is a midrange to almost luxe option, located across the street from the New York Public Library. With cash rates over $600 (about £467) a night during normal times, it's not usually a wallet-friendly hotel.
However, 25,000 World of Hyatt points will get you a king bedroom here. Or, you can splurge on a splash suite with a huge soaking tub for 50,000 points.
TPG senior editor Nick Ewen stayed at the Andaz 5th Avenue a few years ago and gave it two thumbs up, noting that the hotel "is in the perfect location", if you're looking to visit the major sites. It's just far enough away from Times Square that you don't feel the intensity from that location. Instead, you're right across the street from Bryant Park.
Kimpton Hotel Eventi

In Chelsea, you'll find the Kimpton Hotel Eventi. A standard room in this stylish hotel is a modest 275 square feet but comes with amenities such as floor-to-ceiling windows, marble bathrooms and a rainfall showerhead.
Kimpton is also famous for hosting a wine hour each night in its hotel lobbies. (And sometimes even has a secret password that unlocks more free goodies.)
Award night prices vary but are often between 40,000 and 70,000 IHG Rewards Club points.
New York Marriott Marquis

On a normal day, Times Square is a love it or hate it location.
If it's a must-see destination on your trip, the New York Marriott Marquis is a very large, very popular hotel located in the heart of it all. Rooms can easily cost $400 (about £312) or between 50,000 and 70,000 Marriott points per night for one king or two double beds — with a pull-out couch, which is a large accommodation for New York City.

Conrad New York Midtown

Have any Hilton points at your disposal?
If so, look no further than the remodelled and rebranded Conrad New York Midtown, just south of Central Park on West 54th Street. This all-suite property still has a new hotel smell after its renovation last summer. Suites start at 95,000 Hilton points most nights.

St. Regis New York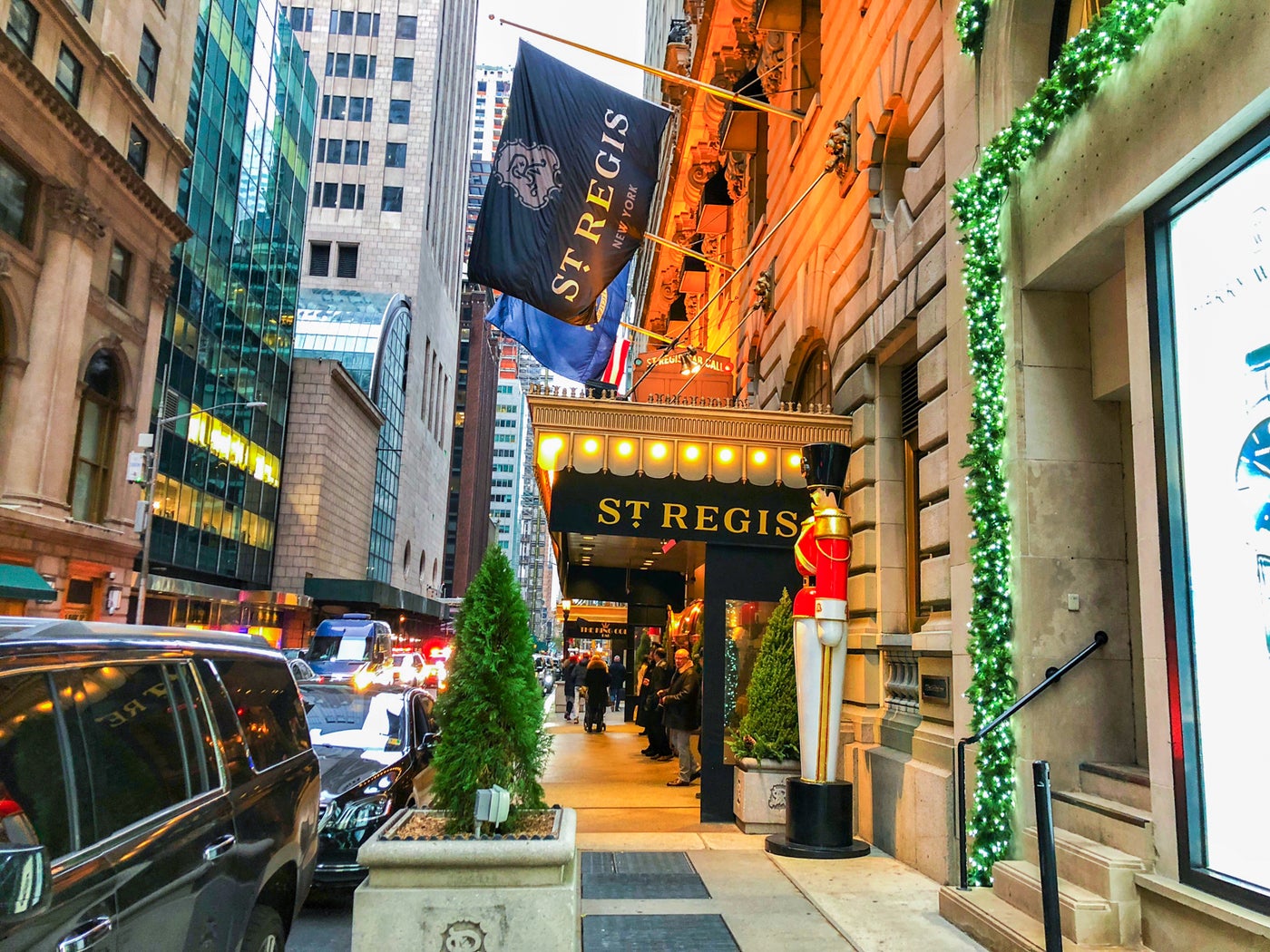 Standing proudly at 55th and Fifth Avenue since 1904, the St. Regis New York is a timeless classic, elegant and (normally) very expensive. It's exactly the kind of place most of us would never pay for with cash since rates often exceed $1,000 (about £779) during normal times. But with points, a stay at this hotel can become a reality.

In this case, you'll need a lot of Marriott points as it sits at the top of the award chart costing 70,000 to 100,000 points per night. But, if you can come up with the points, you're virtually guaranteed a nice stay with butler service, hot chocolate in the lobby and insanely comfortable beds.
Typically, you can only book a king room with a standard points award, though other room types are available for additional points.
Related: Full review of the St. Regis New York
Park Hyatt New York

Rounding out this list is the Park Hyatt New York. It's one of the city's most luxurious properties … and you can book it without spending your cash.
The hotel has a modest 210 guest rooms, including 92 suites. There's a full-service spa, full-size indoor pool, high-end fitness centre and over 350 pieces of art adorning the property. Located directly across from Carnegie Hall, and one block south of Central Park, the property is in a perfect location for tourists. However, it comes at a steep price, with paid rates typically starting around $1,000 (about £779) per night.

On the other hand, the award cost is much more manageable, as you'll need to redeem just 30,000 World of Hyatt points for a free night. As TPG U.K. values World of Hyatt points at 1.5p, you can easily get close to (or more than) double the value at this property. Suites here start at 48,000 points per night, when available.

Bottom line
While things are weird right now, usually, booking a trip to New York City can be an incredibly expensive proposition. However, with the right amount of planning and strategizing with points, you can easily save hundreds or even thousands of dollars in hotel expenses. When the time is right, you now know how to get the most value out of your hotel points on a future trip to the Big Apple.
Featured photo by Oliver Niblett/unsplash
Additional reporting by Brett Holzhauer/The Points Guy
Sign-up Successful!
Welcome to The Points Guy!