The Best Ways to Use 90,000 Iberia Avios
This post contains references to products from one or more of our advertisers. We may receive compensation when you click on links to those products. Terms apply to the offers listed on this page. For an explanation of our Advertising Policy, visit this page.
With many TPG readers now 90,000 Iberia Avios richer, it's time to book award flights. Because of the popularity of Iberia's recent 9,000 Avios per flight promotion and the December 1 deadline for the bonus Avios to be used, award space is tightening up across the board. Now is the time to find a use for your newfound Iberia Avios. A few things to remember about redeeming Iberia Avios:
Iberia has a distance-based award chart for flights operated by the Iberia Group, and award flights can be booked one-way. Iberia partners each have their own distance-based award charts (most are identical), some of which require round-trip bookings. To combine one or more Oneworld partners on an award itinerary, use the Oneworld award chart.
Your award itinerary is priced based on the total length of all your segments, not per segment like British Airways Avios.
Carrier surcharges for transatlantic award flights are the most reasonable of all the Oneworld programs (though make sure to avoid London).
Chicago by distance from Madrid should be in Band 6, but is in Band 5 with New York, Boston and the oft-forgotten San Juan nonstop service.
With all that in mind, here are some of the best uses of 90,000 Iberia Avios, in no particular order…
Iberia-Operated Transatlantic Flights To/From Madrid
Destination
Blue Class / Economy
Premium Economy
Business
Off Peak
Peak
Off Peak
Peak
Off Peak
Peak
New York (JFK)
17,000 / 22,000
20,000 / 28,000
25,000
35,000
34,000
50,000
Chicago – O'Hare (ORD)
17,000 / 22,000
20,000 / 28,000
25,000
35,000
34,000
50,000
Boston (BOS)
17,000 / 22,000
20,000 / 28,000
25,000
35,000
34,000
50,000
Miami (MIA)
21,250 / 27,750
25,000 / 35,000
31,750
43,750
42,000
62,500
Los Angeles (LAX)
21,250 / 27,750
25,000 / 35,000
31,750
43,750
42,000
62,500
San Francisco (SFO)
21,250 / 27,750
25,000 / 35,000
31,750
43,750
42,000
62,500
Given 90,000 Avios and the above award costs, you can slice transatlantic travel any of a number of ways:
Five one-way Blue class, off-peak transatlantic flights to Madrid from the East Coast or Chicago. The total for five legs would be 85,000 Avios, with each leg costing 17,000 Avios. Taxes and fees on a single outbound to Madrid will cost $86, and similarly, an inbound segment back home runs $122.
Iberia Premium Economy round trip, off-peak from anywhere in the US to Madrid will be 50,000 or 63,500 Avios round trip. Pretty stellar.
Business off-peak at 34,000 or 42,000 (depending on departure city) one-way is fantastically priced and requires ~$200 in carrier surcharges for the round-trip. Availability for business is tightening, but not impossible. Within a few minutes of looking, I found dates in October from New York to Madrid with both daily flights showing business space.

American Airlines-Operated Flights
The distance-based chart for American operated flights has a few areas worth investigating. Remember to always check Iberia Avios first instead of British Airways for connecting American itineraries, since Iberia charges by total length instead of segment.
Also keep in mind that itineraries on AA metal must be round-trip — you cannot book one-way on American with Iberia Avios. In fact, not only do you have to book AA flights round-trip, you also have to search for AA flights as round-trips when redeeming Iberia Avios. If you search for a one-way AA award flight, it won't show up on iberia.com, even if the space is available. So check aa.com first to find MileSAAver space, then pop the identical round-trip dates into Iberia's Avios search engine to book.
Economy itineraries less than 1,000 miles — Round-trip itineraries with a one-way flying distance of less than 500 miles will net you a round-trip award on AA for 12,000 Avios. For example, Washington-Reagan (DCA) to Charleston, SC (CHS) round-trip for 12,000 Avios is a heck a steal.
A321 Transcon in First — Your 90,000 Avios will come up just short for round-trip first class on AA's A321T transcontinental service. First class costs 96,000 Avios round-trip compared to 100,000 American miles for the same itinerary, and cash prices on this route easily reach $2,500 or more for first class, so you'll get great value for your Avios. On top of that, you'll also have access to Flagship First Dining on either end of your ticket. It's very easy to earn or transfer in the additional 6,000 Avios required to book the round-trip by using Chase Ultimate Rewards or British Airways Avios.
Economy itineraries between 5,001-8,000 miles — 42,000 Avios will pay your way in economy for one of several round-trip American routes to Europe from the East Coast or to Central/South America from Los Angeles (LAX), Dallas (DFW) or Miami (MIA).
Royal Air Maroc to Casablanca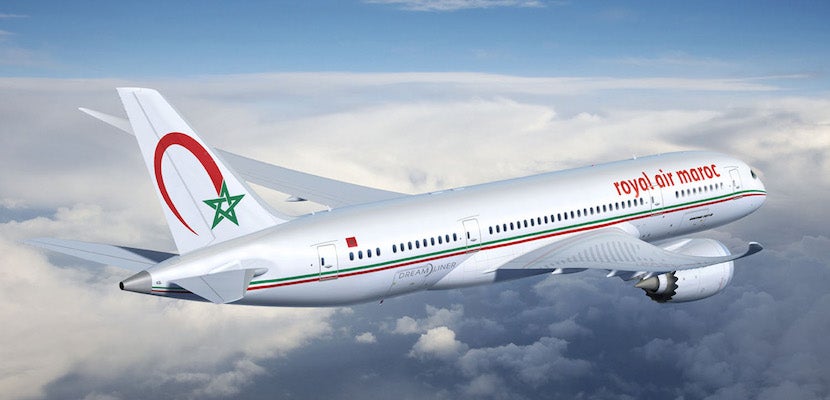 You can book non-Oneworld member Royal Air Maroc-operated flights using Iberia Avios. You must call to find availability — which I've found to be pretty good — and book the flights. Royal Air Maroc now has two daily flights from New York (JFK) to Casablanca (CMN), which will cost you 100,000 Avios round-trip in business or only 42,000 Avios round trip in economy. Carrier surcharges are less than $200 for the round-trip flight. As before, you can transfer in the additional Avios needed for business class for the round-trip itinerary to Africa using either Chase Ultimate Rewards or British Airways Avios.
Royal Air Maroc flies to many African, European and Middle Eastern destinations from Casablanca (CMN), so be sure to keep any eye out for the airline —which is not a part of any alliance — to get around some typically expensive airfares when navigating Northern Africa.
Upgrades
There appear to be some useful opportunities to upgrade Iberia-operated flights using your Avios. However, you must have a revenue ticket in an eligible fare class, and upgrade prices are dependent upon peak and off-peak dates. The Iberia award chart mentions the following classes as being upgrade eligible to business class: Flexible Economy Fares (Y, B and H fare classes) and Premium (W).
There are no economy fare classes specified as to what is eligible for upgrades to premium economy. A phone agent also could not tell me which economy fare classes were eligible for premium economy upgrades, but said she could check on a flight-by-flight basis once I had my revenue itinerary booked.
Here are the costs to upgrade from economy to premium economy or business, and from premium economy to business on routes to and from Madrid:
Destination
Economy to Premium Economy
Premium Economy to Business
Economy to Business
Off Peak
Peak
Off Peak
Peak
Off Peak
Peak
New York, Boston, Chicago
8,500
15,000
8,500
15,000
17,000
30,000
Miami, Los Angeles, San Francisco
10,500
18,750
10,500
18,750
21,250
37,500
8,500 Avios to upgrade to premium economy from the East Coast during off-peak dates is a steal. If you booked a $20 ticket to earn 9,000 Avios during the promotion, that could equate to a $20 Premium Economy upgrade. And if I was flying for work and could get my company or client to pay for an upgrade-eligible economy ticket, I'd certainly consider 17,000 or 21,250 Avios to upgrade to business for a long-haul flight. Similarly, upgrades from Premium Economy (W) tickets to business are fantastically priced during off-season (and even peak dates). I'm personally going to set a Google Flights alert for Iberia premium economy tickets to see if I can catch a good fare and then upgrade to business for practically nothing.
Promotions
Iberia routinely has promotions on award flights, including earlier this year where lie-flat business class across the Atlantic could be booked for 25,500 Avios. Currently, Iberia is offering 25% off the Avios required for Iberia Express-operated flights booked by July 30 and flown by October 26. Under this sale, transeurope flights from Spain can be had for as little as 7,500 Avios.
What's Not a Good Use of 90,000 Avios?
If you want to book Oneworld-operated long-haul business on itineraries over 5,000 miles, I wouldn't recommend Iberia Avios as the currency to use. Business class flights over 5,000 miles in length on partner-operated flights balloon to 100,000 Avios and higher. There are certainly better loyalty programs out there to book these kinds of flights. From the US, that would include itineraries to Asia, the South Pacific, Southern South America or the Middle East.
Bottom Line
If I had 90,000 Avios, I'd put my attention squarely on booking Iberia-operated, off-peak transatlantic award flights, or looking for great revenue fares and then attempting to upgrade to either premium economy or business class. After those priorities, I'd turn my attention to American-operated transatlantic economy tickets or flying Royal Air Maroc to Africa. Congrats to all those who collected the Avios on this promotion, and be sure to book as soon as possible so you don't run into award availability or December 1 deadline constraints.
Sign-up Successful!
Welcome to The Points Guy!