Disney World at Christmas: Peak Holiday Magic
This post contains references to products from one or more of our advertisers. We may receive compensation when you click on links to those products. Terms apply to the offers listed on this page. For an explanation of our Advertising Policy, visit this page.
What happens when you visit the "Most Magical Place on Earth" during the "Most Wonderful Time of the Year?" When you visit Disney World during the Christmas season, you will find full-on holiday magic in the form of 29 large custom tress (up to 70 feet tall), 596 smaller trees, 117 renditions of the Candlelight Processional at Epcot, a Christmas Tree Trail at Disney Springs, hundreds of wreaths and (virtually) guaranteed pure delight.
Disney World is a world-class family destination 365 days a year, but it gets extra special during the Christmas season — especially for the 22 days out of the year when the Magic Kingdom hosts Mickey's Very Merry Christmas Party.

This year, I couldn't resist the urge to dive face-first into the holiday season by taking my girls for a quick Christmas Disney World visit that included tickets to one of the first Mickey's Very Merry Christmas Parties of the year. If you need a little (Disney) Christmas, right this very minute, here are tips for visiting Disney World during the Christmas holiday fun.
Get Tickets to Mickey's Very Merry Christmas Party
To maximize Christmas at Disney World, you must plan your dates around Mickey's Christmas Party and get tickets to this evening event in advance. Sadly, just having regular admission tickets to the Magic Kingdom won't get you in the special evening party that runs on select dates from early November to a few days before Christmas. On the plus side, tickets to the Christmas Party get you into the Magic Kingdom beginning at 4pm. The party officially starts at 7pm, giving you a few hours to ride some rides without missing any of the party. FastPass+ bookings don't work during the party, so make those beginning right at 4pm.

The Christmas Party itself is comprised of included treats passed out around the Magic Kingdom, special shows, fireworks, parades, dance parties, character greetings and photo opps — it is Christmas on Mickey steroids.

Mickey's Christmas Party tickets price range from $99 to $125 for adults (discounts available for annual pass holders). You can make an educated guess as to which party nights are the most popular by checking the prices. Pricier generally means busier, so go on a weekday night earlier in the season to enjoy slightly lower attendance Know that some party dates sell out, so don't drag your feet once you know your plans. Along those lines, now is a good time to warn you that Christmas at Disney World is very, very popular. If you have the ability to avoid weekends and peak holiday weeks, do it.
Here's how to use points to score tickets to Disney World, or pay with a credit card that awards a bonus on entertainment purchases such as 4% cash back on the Capital One Savor Cash Rewards Credit Card or 2 points per dollar on the Citi Premier Card. If you purchase your Mickey's Christmas Party tickets from UnderCover Tourist, they should code as a travel expense earning you 3 points per dollar on a Chase Sapphire Reserve. Alternatively, you can purchase Disney gift cards at a discount at Sam's Club, with a Target card, or at various retailers, such as grocery stores.
Eat All the Sweets
During Mickey's Very Merry Christmas Party, they hand out tons of different included treats at various points in the Magic Kingdom including Santa sugar cookies, ginger molasses cookies, hot chocolate, chilled apple cider, snow cones (it's still warm most days in Florida) and more. There were also allergen-friendly options available upon request.


There are also dessert parties during the Very Merry Party offered at an extra cost, but I can't imagine doing one of those with all of the included Christmas treats passed out at virtually every turn.
If you don't want a whole dessert party but somehow aren't stuffed from the included treats, there are holiday-themed desserts for sale. But again, during a Christmas party there is truly no need to pay extra for sweets. We totally had a cookies for dinner during the party! (Spend your food budget on party-only Christmas pins available at the counter in some Magic Kingdom shops).

If you are playing at Flurries of Fun at Disney's Hollywood Studios where the treats aren't included, I recommend spending $3.29 for a Seasonal cran-apple cinnamon pastry with vanilla fondant at Woody's Lunch Box in Toy Story Land. That is the perfect holiday treat to enjoy while you wait for a ride such as Slinky Dog Dash.


Play in the Snow
The thermometer may often say 85 degrees in Central Florida during the holiday months, but it still snows thanks to Disney Magic. While celebrating Christmas at Disney World, make time to play in the snow both on Main Street USA and on Sunset Boulevard in Hollywood Studios. If you don't have a park ticket, you can still play in the falling snow on the Christmas Tree Trail at Disney Springs.

While it's no Osborne Lights, Flurries of Fun on Sunset Boulevard is pretty spectacular as the Tower of Terror has been transformed with festive Toy Story-themed lights.

For some extra fun in the snow, check out the Frozen Sing-a-Long at Hollywood Studios, where it even snows indoors— my girls actually loved that snow the best!
Enjoy the Decorations
When the final Mickey's Not So Scary Halloween Party ends on October 31, Disney transforms the Magic Kingdom virtually overnight into a holiday wonderland. It takes a little longer for the decorations to make their way around the entire Disney World property, but by a couple weeks into November, there is decor around every turn.

Some Disney World Christmas decor highlights include Main Street USA, which is absolutely not to be missed. The Magic Kingdom alone has 590 garlands (measuring a total of 5,188 feet), 40 Christmas trees and 147 wreaths.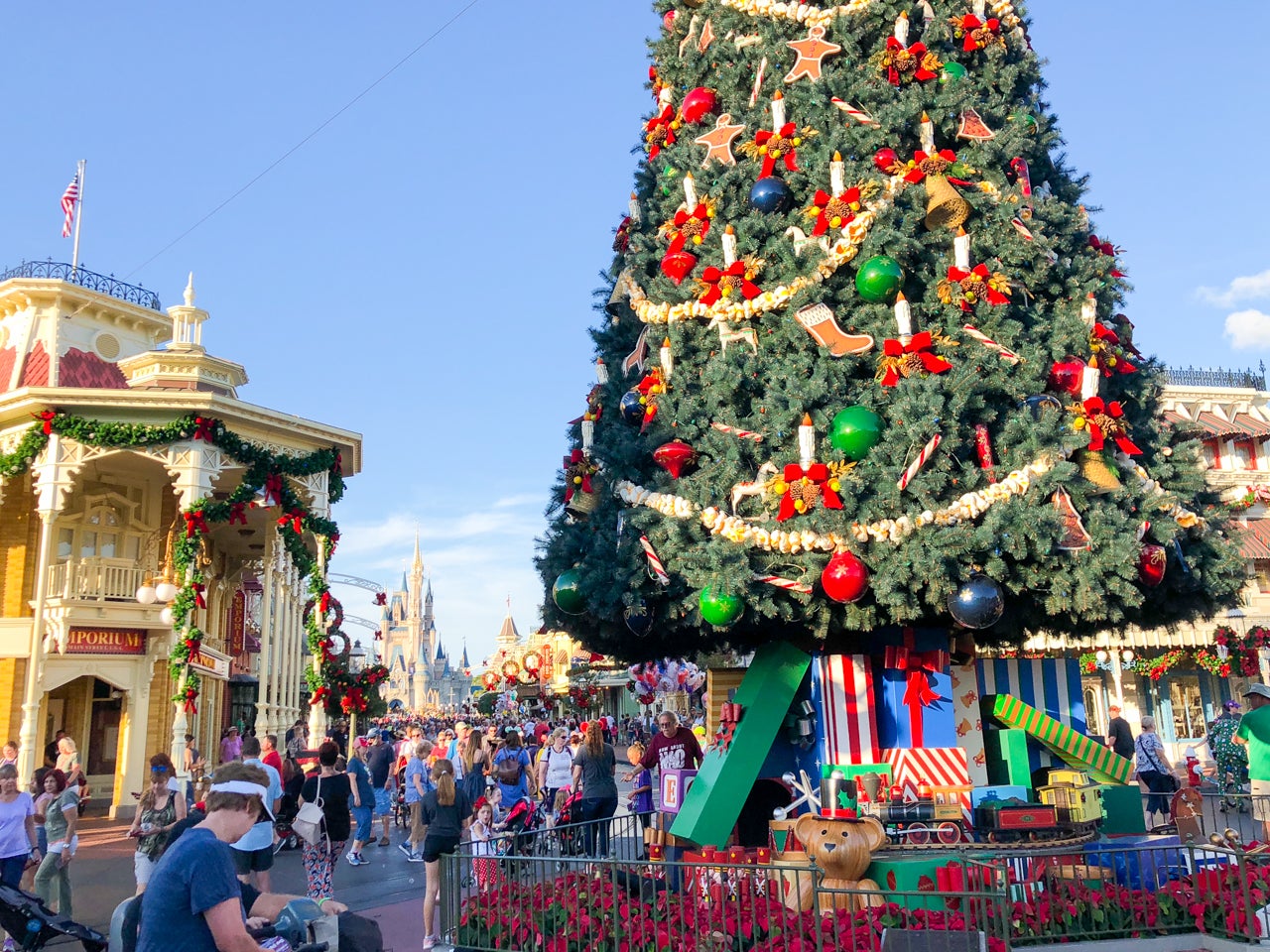 Another must-visit is the life-size gingerbread house at the Grand Floridian (order a shingle to eat), the massive trees in the lobby of the Wilderness Lodge (take the boat from Magic Kingdom) and Animal Kingdom Lodge, as well as the Christmas tree and decorations in and around Echo Lake at Disney's Hollywood Studios.

Sadly, the large Christmas tree was not yet in place on our November 11 – 13 stay at Animal Kingdom Lodge, so keep that in mind as you are selecting holiday dates and hotels.
If you really want to learn about the holiday decor and what it takes to transform Disney World into a holiday wonderland, book a via a behind-the-scenes tour for $139 on select dates in November and December (ages 12 and up). Or, there's even a six-hour $279 Holiday D-Lights tour that spans from the Magic Kingdom to Epcot with backstage exclusive access to learn about the holiday events, enjoy time with the Event & Decorating Support team that decorates Cinderella Castle in twinkling lights and concludes with the Candlelight Processional at Epcot.

It's About the Shows, Not Rides
While you can and should ride some rides while experiencing Christmas at Disney World, pencil in some days that are not about the rides. If you are constantly worried about FastPass+ times, ride waits and park strategy, you will miss much of the magic of the holidays at Disney.

Get a good seat for the parades and castle shows during Mickey's Christmas Party, dance with reindeer at Club Tinsel, sample all the treats, check out the decorations and let the rides wait for another day.

That said, don't miss "Jingle Cruise," one of the few rides to transform into a holiday-themed experience!

Coming from someone who has ridden almost all of the Disney World rides in one day, it can be hard to change your Disney approach to forgo some rides in favor of shows and parades. But, you will want to schedule time to explore and appreciate how Disney World transforms for the holidays, or risk missing much of what makes this the most special time at the most magical spot.
Bottom Line
If you like Christmas, winter holidays and Mickey Mouse, you are almost destined to love Christmas at Disney World. This wasn't our first visit to Disney during the holidays, and it won't be our last. There's too much to see and do to take it all in on one visit, which is fine, because there's always next Christmas.

Sign-up Successful!
Welcome to The Points Guy!