How to transfer your Avios between British Airways, Qatar Airways, Iberia and Aer Lingus accounts
This post contains references to products from one or more of our advertisers. We may receive compensation when you click on links to those products. Terms apply to the offers listed on this page. For an explanation of our Advertising Policy, visit this page.
Avios is a very important points currency for UK travellers. That's because it's the used by the loyalty programmes British Airways Executive Club, Iberia Plus and Aer Lingus AerClub, and now Qatar Airways Privilege Club. So, if you have a frequent flyer account with these airlines, you'll be earning and redeeming Avios.
Related: Qatar launches Avios transfers, British Airways lowers the price of Qsuite awards
Avios can be transferred between the programmes at a rate of 1:1, so one BA Avios is worth one Qatar Avios and vice versa. The reason you may wish to transfer your Avios between the different programmes is that Avios have slightly different values depending on their uses. For example, a Reward Flight Saver is available with Avios in British Airways Executive Club, but not in Iberia Plus.
Similarly, you may find lower prices, fees and taxes booking a long-haul Iberia-operated flight by using Avios in your Iberia Plus or Qatar Airways Privilege Club account rather than your British Airways Executive Club.
Note that you can only transfer Avios to yourself. Have a read of our guide to British Airways Household Accounts for more information about sharing Avios between family members.
So, how exactly can you move your Avios around?
Want more TPG news sent straight to your inbox each morning? Sign up for our daily newsletter.
Combine Your Avios via Avios.com (with Your AerClub login)
The easiest way to transfer Avios between your British Airways, Iberia and Aer Lingus accounts is to do so via Avios.com using your Aer Lingus AerClub login details. While this may be a two-step process depending on where your Avios are and where you want them to be (i.e. from Iberia to AerClub and then to Executive Club), doing it this way does not have some of the frustrations and bugs that trying to transfer them outside of Avios.com can have. Note, with Qatar Airways only recently adopting Avios as its loyalty currency you cannot yet use this functionality to move Avios into Qatar Airways Privilege Club, but see below for a workaround via British Airways.
To do this, you'll first need to ensure your personal details in each of the programmes match — your full name, date of birth and email address. Iberia Plus also has a requirement that the account must have been opened for at least 90 days in order to receive or transfer Avios so you should open an account ASAP even if you don't have an immediate need to transfer.
Then, open an AerClub account here — this is the loyalty programme of Aer Lingus.

Once you have an account, you need to log in to Avios.com using your AerClub login details. You may then be prompted to create a new password.
Then click the 'Your Account' tab within your Avios.com account and select 'Transfer Avios to/from British Airways or Iberia'.

Any Avios currently in your AerClub account will appear in your Avios.com account, as this is how AerClub Avios are stored, and why you need to use your AerClub login details.

If you are moving Avios in from or out to Executive Club, select Executive Club from the drop down menu and log in to that account.

Once logged in you can then choose to transfer Avios to or from the selected programme (in this case British Airways, but the same works for Iberia Plus if you have chosen to log in to that account instead).

You'll be taken to a confirmation page to confirm your choice.

If you want to move Avios from, say, Iberia to BA, you would use this Avios.com feature to transfer Avios from Iberia to Avios.com, and then from Avios.com to BA.
Transfers are free and instant.
How to transfer Avios in or out of Qatar Airways Privilege Club
Right now, Qatar's Privilege Club is not an option for the Avios.com transfer option described above. But there is a way around this. You can link your BA and Qatar accounts, and transfer Avios between the two accounts at a 1:1 rate in either direction. This means if you want to transfer your Avios from, say Qatar to Iberia, or Aer Lingus to Qatar, you can do either by transferring them via British Airways.
If you hold frequent flyer memberships with Qatar and British Airways, you can link your accounts here.
Related: Get 2,500 free Avios by signing up for Qatar Privilege Club and even more when you use Cash + Avios
When I logged into my Qatar Privilege Club account, I was prompted to link my British Airways Executive Club account to my Qatar account.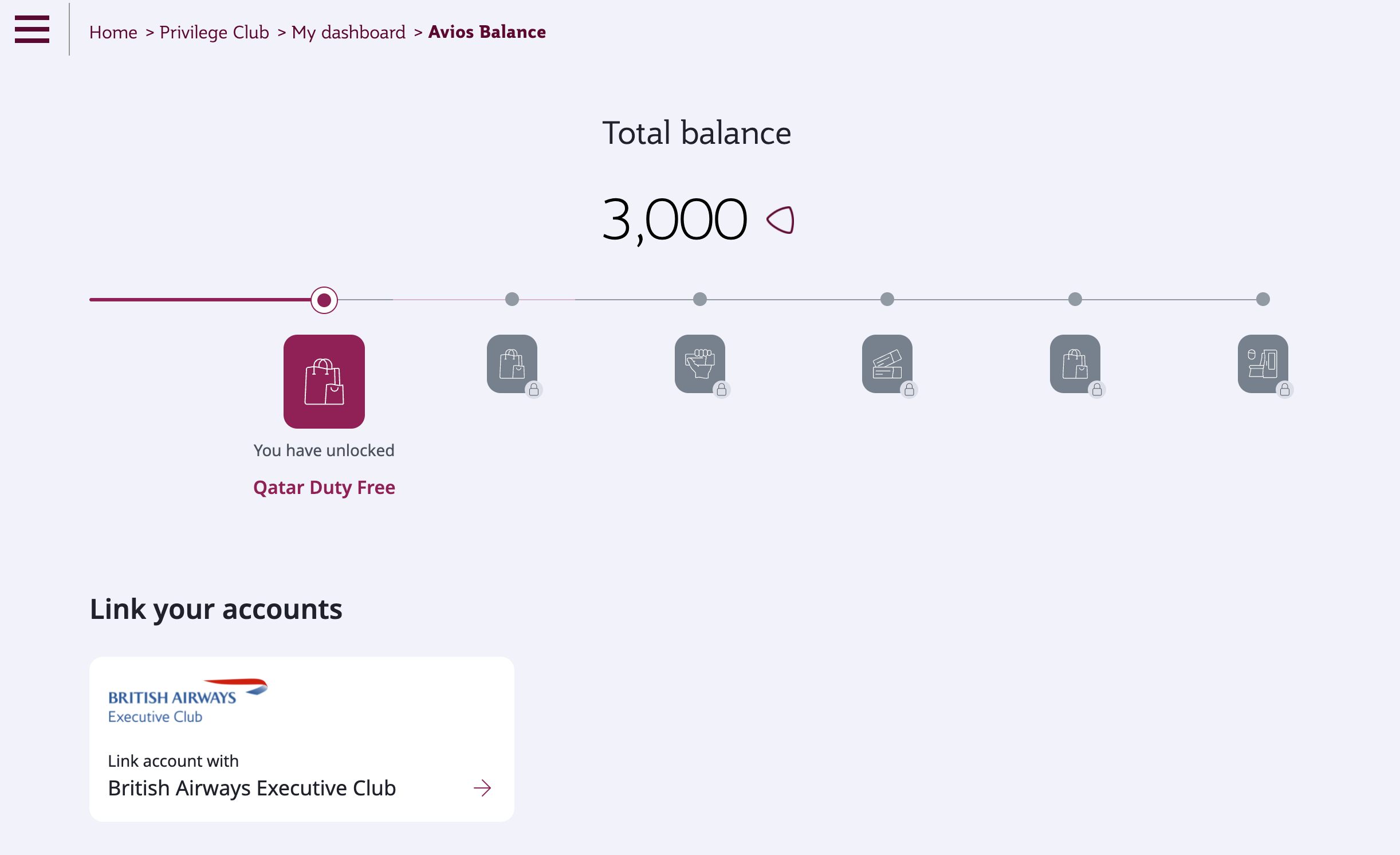 After selecting "Link account with British Airways Executive Club," I was asked to log into my BA account.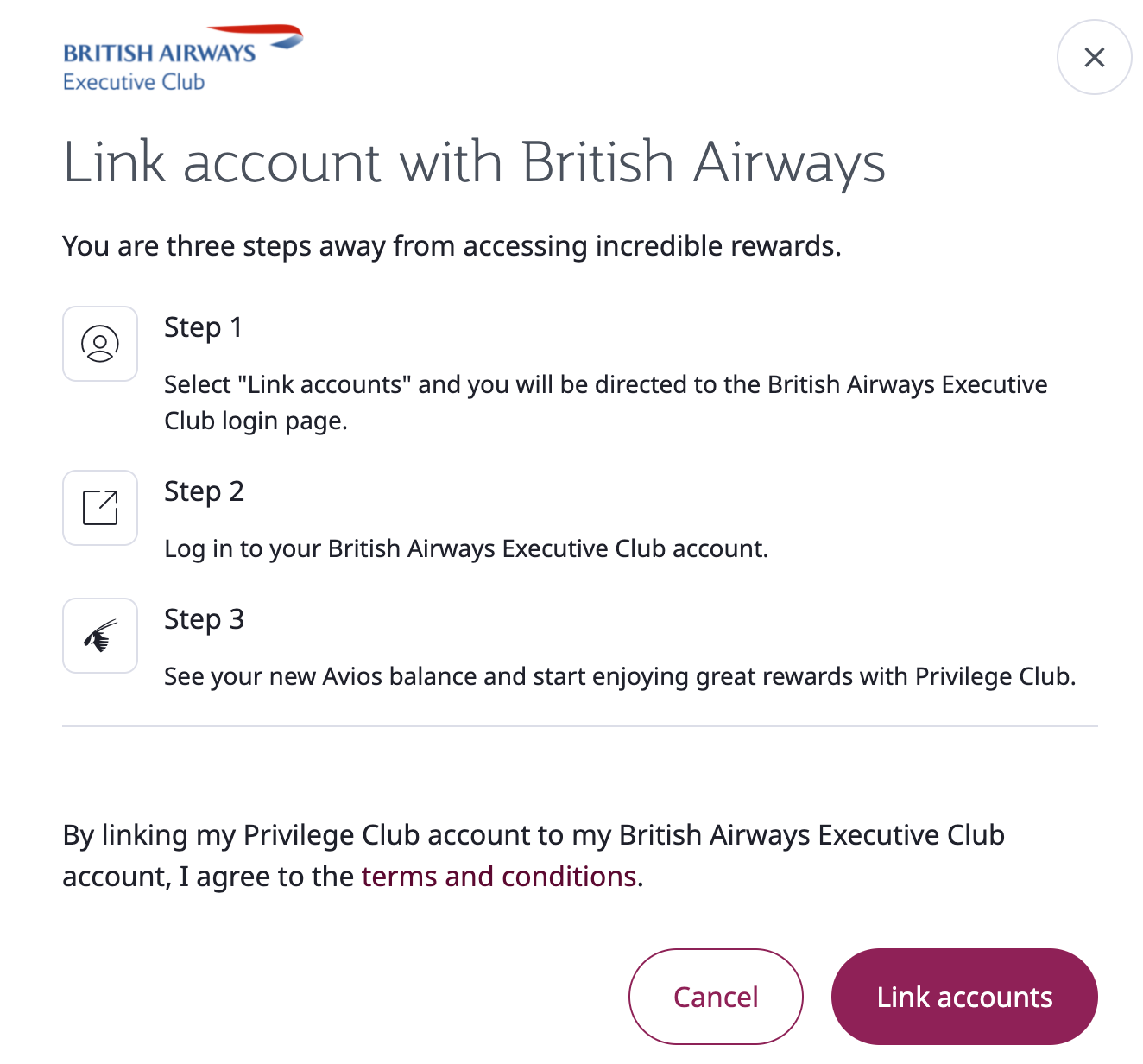 With another click, I had linked my British Airways and Qatar accounts and could see my balance in each.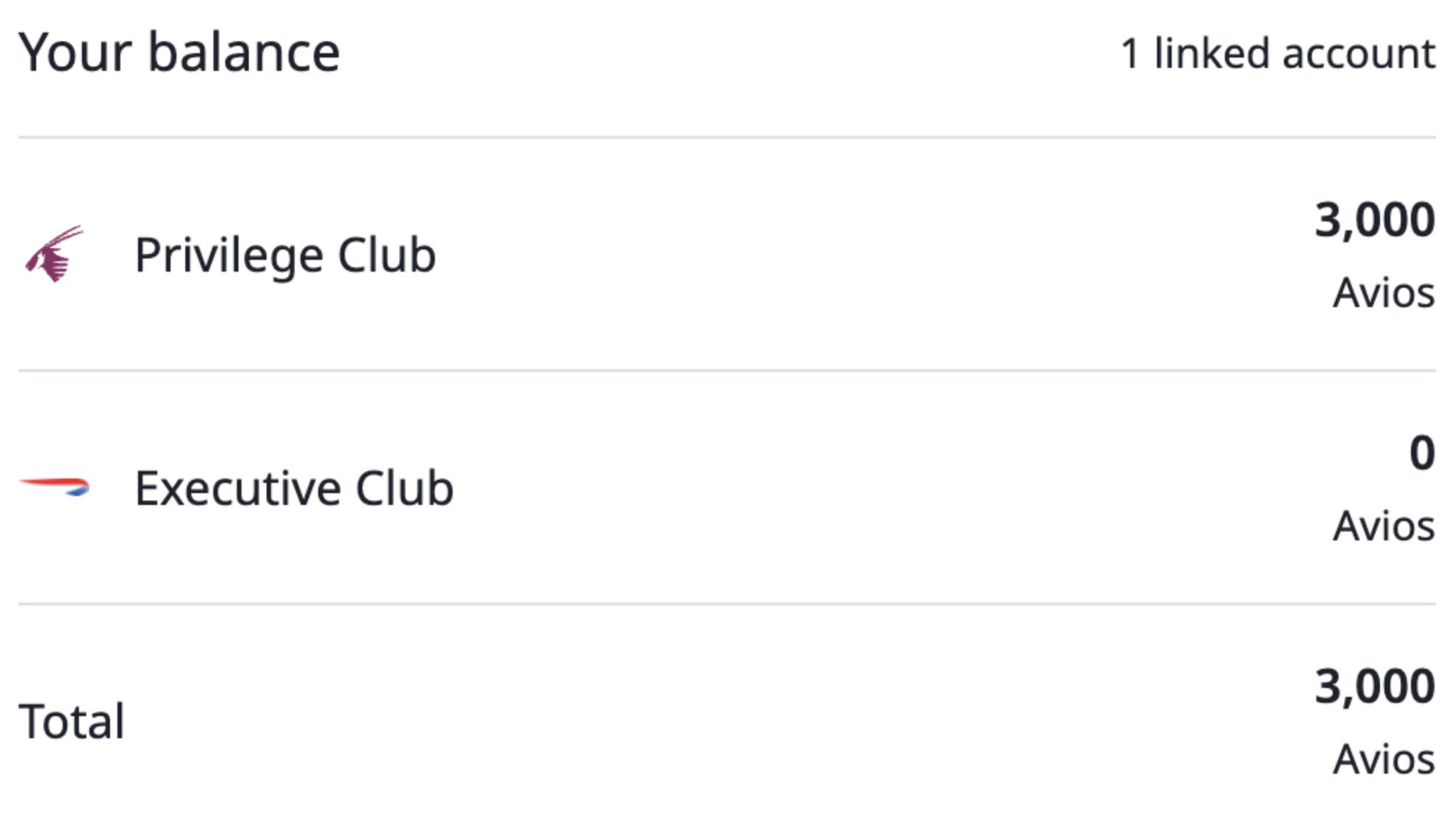 Then, you can transfer your Avios between accounts by clicking the "Combine Avios" button. The next page will ask which account you'd like to transfer to and from, and how many Avios you'd like to transfer. You can confirm your transfer by clicking the "Move my Avios" button. In our testing, transfers from British Airways to Qatar and vice-versa were processed instantly.
Note that you can also link your British Airways and Qatar Airways accounts on the "Combine my Avios" tab on the British Airways website.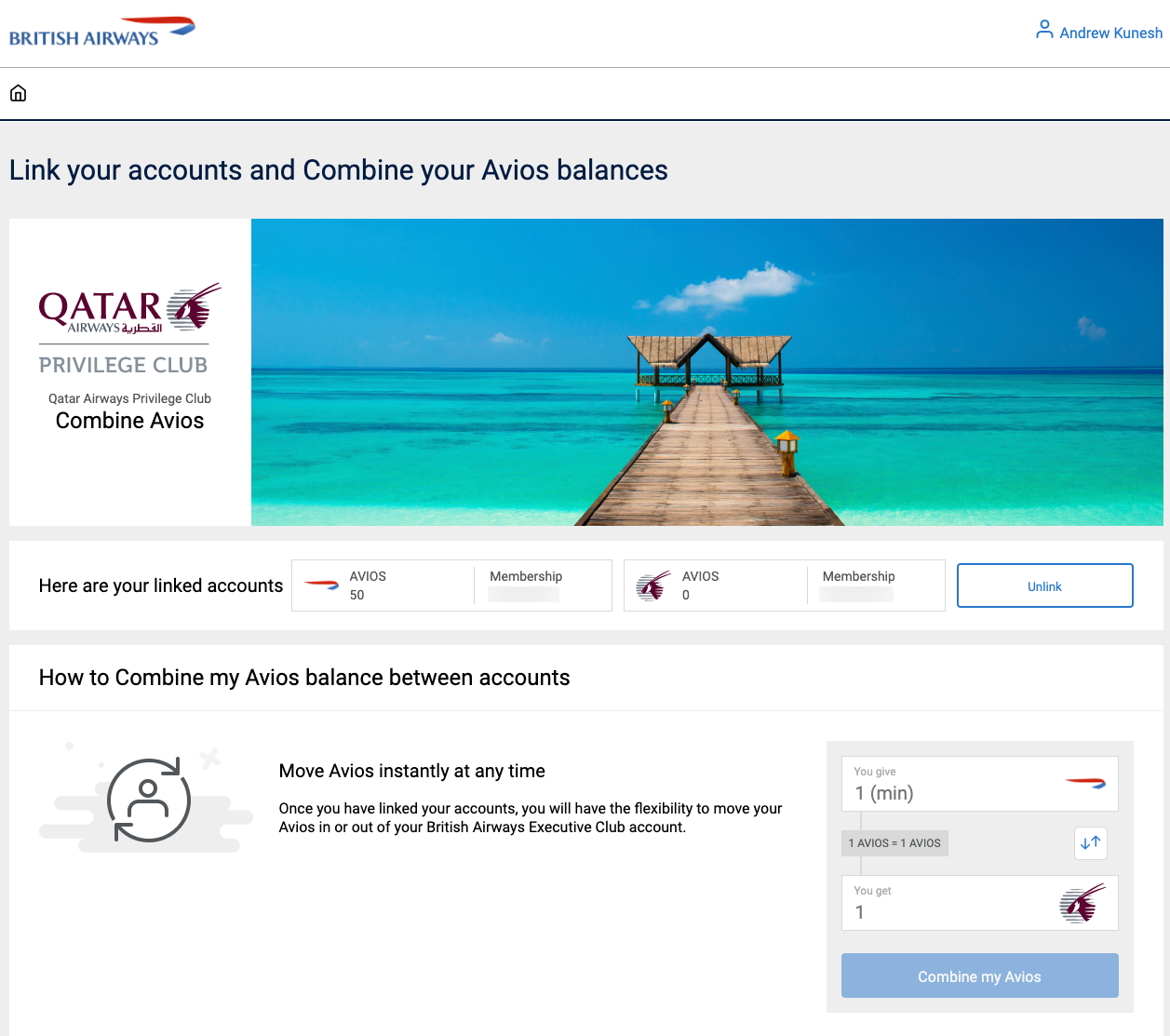 Additional reporting by Kyle Olsen
Featured image by Nicky Kelvin / The Points Guy
Sign-up Successful!
Welcome to The Points Guy!