How to pick your perfect aeroplane seat
This post contains references to products from one or more of our advertisers. We may receive compensation when you click on links to those products. Terms apply to the offers listed on this page. For an explanation of our Advertising Policy, visit this page.
Whether you're a window fan or prefer the aisle, picking the perfect plane seat could make or break your flying experience. While we'd all prefer to cruise in business or first class, picking your seat when travelling economy is even more important — especially if you don't want to end up stuck in the dreaded middle seat. Here's what you should do to make sure you get to sit exactly where you want when flying.
1. Figure out where you actually want to sit
Deciding where it is you want to sit isn't always an exact science. For example, you could be a die-hard window seat person, or maybe you really only like to have the window on red-eye flights when you prefer to sleep and otherwise prefer the aisle. If you're flying a route you know has turbulence, maybe you'd prefer to sit over the wing. Or, if you have a short layover, you may want to sit closer to the front to deplane first. And, if you're flying with a group, you'll have to consider not only your needs, but your family's or travelling companions preferences too.
For example, Richard Kerr, the loyalty and engagement editor for The Points Guy, sits in the back row whenever possible when flying with his family. That way, his family of four, which includes young children, are close to the lavatories and flight attendants. And, if the kids happen to have a meltdown, they're less likely to bother other passengers if in the back. But, travellers with babies may want to sit in the bulkhead where bassinets are available. Meanwhile, I'm always an aisle person, especially since I frequently travel solo. I'm restless, and like to stand up and walk around — even more so on long-haul flights.
Whatever your preferences are, decide where your dream seat is for your particular flight, taking into account the airline, route, the class of travel, the time and length of flight, travel companions and any other personal factors that could affect your seat choice.
Further reading:
2. Use SeatGuru
SeatGuru is a website that allows you to view the seat map for your aircraft and read reviews for the seats. Once you enter your airline, date of flight and flight number, a color-coded map of your aircraft will appear.
The colours refer to things like a good seat, bad seat, mixed reviews or "be aware", thanks to things like extra or reduced legroom, recline, exit rows, galleys and more. You can also determine the pitch or width of the seat and if there are inflight entertainment screens and outlets to charge. The seat map shows the location of the loos, galleys and windows — and allows travellers to upload photos of their seats.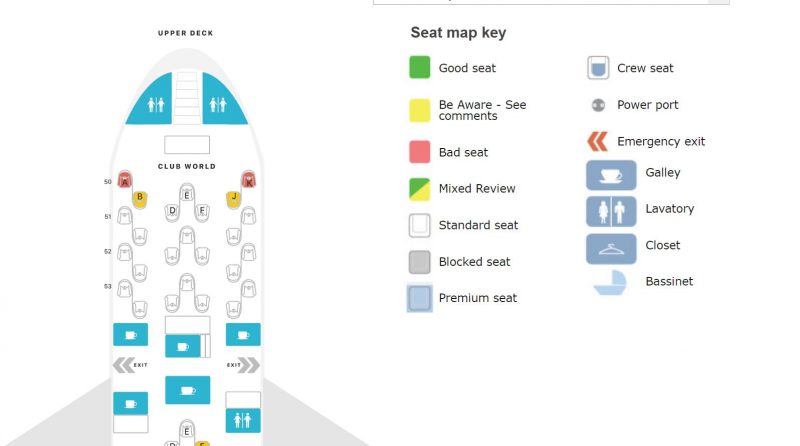 Using SeatGuru can help you determine exactly where on the plane you'd like to sit to be near or far from a loo, if that exit row is worth it, or keep you from selecting a seat without a window or with limited recline. We're hoping that somehow in the future, it can tell us where babies are seated too, like the JAL seat-selection map.
3. See what elite status (or a credit card) awards you
Once you've decided on your personal preference and checked out SeatGuru to get an idea of what you have to work with, see if you can select your seat for free. Take inventory of which elite status you have with which airlines, and see if any of your cobranded airline credit cards offer free selection (or priority boarding which gains you access to unassigned seating faster).
Further reading: The best British Airways first class seats
4. Decide if paying for your seat is worth it
If you can't select your seat for free, you may be able to pay to choose your seat. Start by managing your booking online. The airline should specify if seat booking is free and which seats are still available. If seats aren't free, fees should be listed and may vary depending on seat.
Seat selection fees can run from as low as about £1.50 per seat on a short-haul route with a low-cost carrier like Ryanair to £50 for an exit row pick on a long-haul route with Air India to more than £80 for preferred or premium seats on international routes with carriers like American Airlines.
Keep in mind that seating on many partner airlines or international routes may vary regardless of your elite status. If you aren't able to select a seat online or are seeing a very hefty fee, it never hurts to call and ask.
Consider the following when deciding whether or not to pay for your seat:
How much is it?
Can I afford it?
How upset will I be if assigned a middle seat?
How badly do I want to sit next to my travel companion?
Will I need to frequently stand up during the flight?
Do I need a bassinet?
Am I travelling with children?
Do I need an exit row, bulkhead or extra space due to my height or any other circumstance?
How long is my flight?
Is this an overnight or red-eye flight where I need to sleep?
Will I be working during the flight and need space for my laptop?
For nervous flyers: Will having my preferred seat keep me calmer?
Depending on the answers to your questions and the price quoted to pick your specific seat, it may be worth it to pay extra for your preferred seat. And it's always worth phoning ahead to find out what the airline representatives can do for you, especially if you have any extenuating circumstances. They may take into account your personal situation (for example, a broken ankle, travelling with an elderly family member, large family or baby, or being pregnant) and assign you a seat free of charge or for less then is quoted online.
Further reading: The best British Airways Club World seats
5. Be friendly at check-in
If you've decided not to pay extra to reserve a seat or you've simply forgotten to go online, do your homework and select it, being friendly to the check-in agent may help. While it may be a full flight with many seats already allocated, if you approach the agent with a smile and kindly make your request, it may just be granted.
Further reading:
6. If all else fails, ask on the plane
If all other attempts have failed and you can't manage to sit next to your travel companions or get the seat you want, it's always worth asking other passengers or the flight attendants if a swap is possible. While no one is likely to give up their window seat for your middle seat, there may be other circumstances where other passengers may not mind changing with you, especially if the flight isn't full. Remember, the nicer you are, the better.
And on the other side of things, if you've put blood, sweat and tears into researching, selecting (and maybe sitting on hold for 46 minutes waiting to speak to a representative) your perfect plane seat and someone else asks you to move, you can always politely decline.
Sign-up Successful!
Welcome to The Points Guy!