6 tips for avoiding a lengthy wait at London Heathrow immigration
This post contains references to products from one or more of our advertisers. We may receive compensation when you click on links to those products. Terms apply to the offers listed on this page. For an explanation of our Advertising Policy, visit this page.
The gradual relaxation of the United Kingdom's strict travel rules is leading to longer immigration wait times at the country's busiest airport. According to the Daily Mail, some travellers have reported waiting in line for three hours.
Fully vaccinated British travellers (as well as visitors from several other countries including the United States) can now travel to the United Kingdom without quarantine on arrival, but the increase in travellers is just one reason for long queues after landing.
The U.K. currently has a complex documentation process for all arriving passengers, which includes a completed passenger locator form, as well as evidence of two prebooked COVID-19 tests and complete vaccination.
Since this paperwork is manually checked by Border Force immigration officers, the process takes much longer than a quick flick through your passport and a few cursory questions about the purpose and length of your visit.
For more TPG news delivered each morning to your inbox, sign up for our daily newsletter.
And there are other factors exacerbating the bottleneck at London Heathrow (LHR), too.
Border Force officers have either tested positive to COVID-19 recently or have been in close contact with someone who has (such as a fellow Border Force agent). The U.K. National Health Service's app to track and trace COVID-19 outbreaks has been alerting hundreds of thousands of Brits to advise them to self-isolate for 10 days because they have been in close contact with a positive case, and checking arriving passengers at Heathrow Airport is not a job that can be done from home.
Arriving passenger numbers have also been difficult to estimate due to the constantly changing U.K. government travel rules. While the traffic light system will be scrapped early next month, destinations moving to the amber or red lists have caused tens of thousands of Brits to race home within just a few days to avoid new quarantine requirements.
Delays at Heathrow, the Daily Mail also reported, have been due to extensions in Border Force shift hours to cope with the increased arrival numbers. Some staff are now forced to work 12 hours each day which has caused an increase in staff calling in sick due to exhaustion.
So, if you're flying through Heathrow in the near future, you'll want to keep these tips for reducing your wait time in mind.
Use ePassport gates whenever possible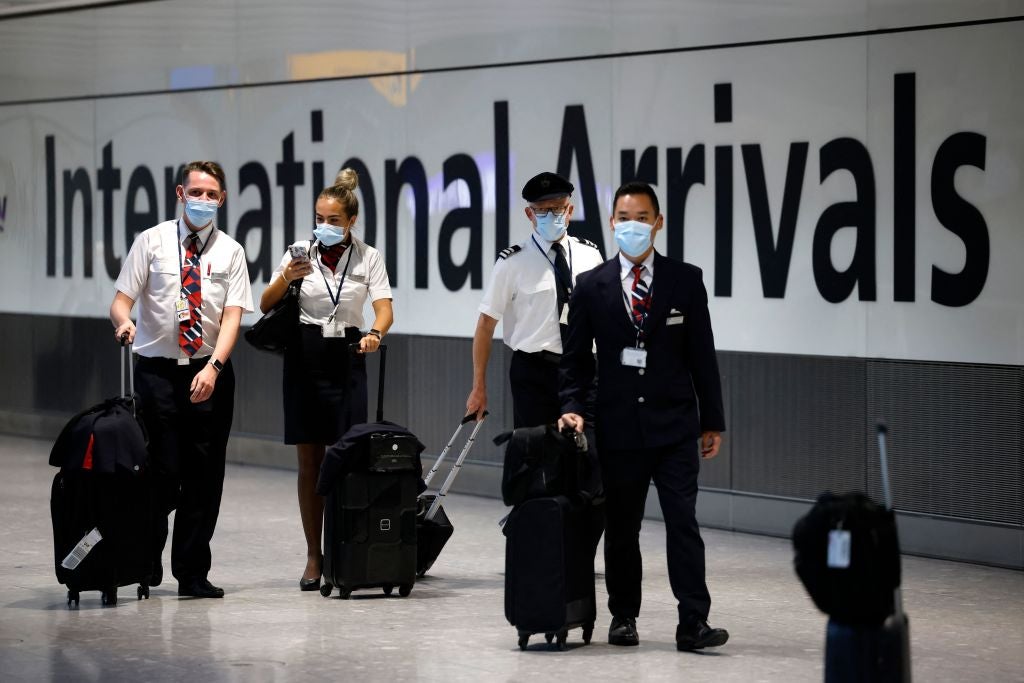 The fastest way to pass immigration quickly is to use the electronic gates wherever possible. I recently passed through Terminal 5 in less than two minutes this way.
U.K. passport holders can use any available ePassport gate. Where the electronic gate recognises your passport scan and verifies your identity electronically by taking a photo of you at the gate, you can pass straight through without a manual check of your passport, documents or vaccination status.
Related: Passport holders from 7 additional countries can now use ePassport gates at U.K. airports
If the electronic gates cannot process you automatically you will be sent to a manned desk for manual processing, though these are special desks near the gates; you won't have to rejoin the main immigration queue.
To assist the gates, you should ensure your passport page can be easily read (basically, avoid damaging or staining your passport).
You'll also need to make sure the gate can easily match your face with your passport photo. So, remove your hat, sunglasses and your face mask for the photo.
Heathrow terminals can have dozens of electronic gates open for your arrival, or may only have a handful. They will often switch on extra gates if queues to use them increase. Look for the big blue ePassport gates signs as you enter the immigration hall to join this queue. If the gate processes you electronically you may not have any of your COVID-19 documents checked on arrival at all.
Unfortunately for families, children under 12 can't use the gates, regardless of their passport type. This means families travelling with children will have to join the main queue and have all their documents checked manually which will take much longer.
Avoid landing at peak times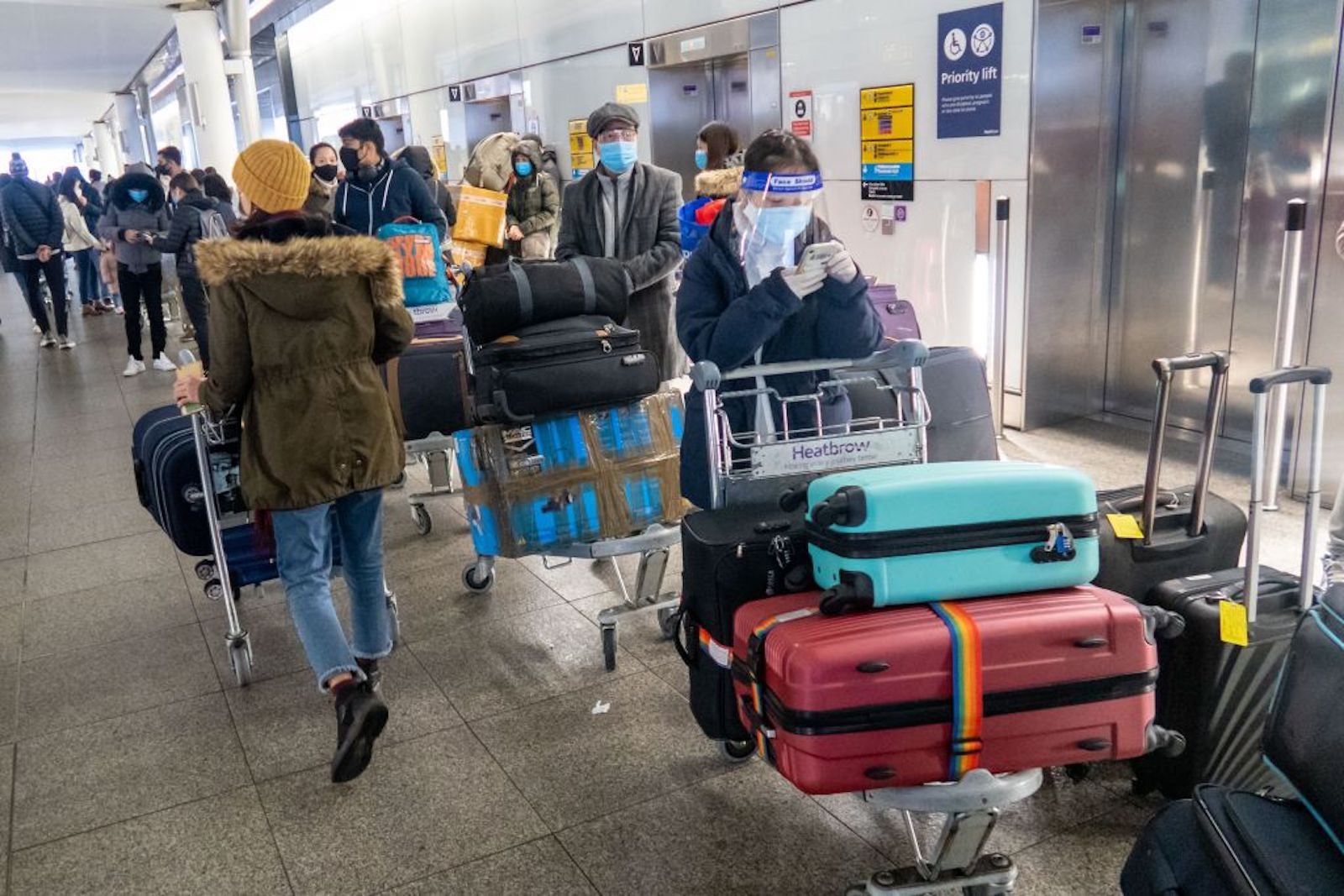 Depending on your flight to Heathrow, you may not have this luxury, but some times of the day and week see far fewer arriving passengers. Many long-haul flights (especially transatlantic) arrive at Heathrow between 6:30 a.m. and 10 a.m. (local time) each day, so this is when you can expect long queues at immigration.
Similarly, each Sunday from 5 p.m. onwards many Brits will be returning from weekends away so there will be long queues.
You can check the Heathrow website to see how many flights arrive at each terminal at different times of the day and week. For example, early afternoon on weekdays should be a relatively quiet time for arrivals so there should be shorter queues so if you can book a flight arriving then your wait time should be quicker.
Be first off the plane
This is where using booking into a premium cabin will be very valuable.
Most aircraft at Heathrow are deplaned through just one or two doors at the front of the aircraft and premium passengers are usually the first to leave.
If you're coming off a flight of 300 passengers, being among the first travellers to leave the plane will get you to the immigration gate before the hundreds of passengers sitting behind you.
Related: Business-class battle: The best lie-flats between the US and London
Use the lavatory before you land
You should also make your way directly to immigration as soon as possible.
You may see people physically running through the terminal to try and beat the queues. Unfortunately, you won't know how long the wait time is until you enter the terminal.
If possible, use the lavatory on the aircraft before landing to avoid needing to use a terminal restroom before reaching the arrivals hall. These precious few minutes you spend in a terminal restroom could allow hundreds of other passengers to join the queue before you do.
Have your documents ready
It's not completely necessary to have everything printed, but it will be quicker for Border Force officers to verify your documents if you can hand them over rather than scrolling through emails and downloads on your phone.
I've seen some travellers who have everything printed in a folder ready for the immigration desk and this works well, especially if you're travelling in a group.
Remain calm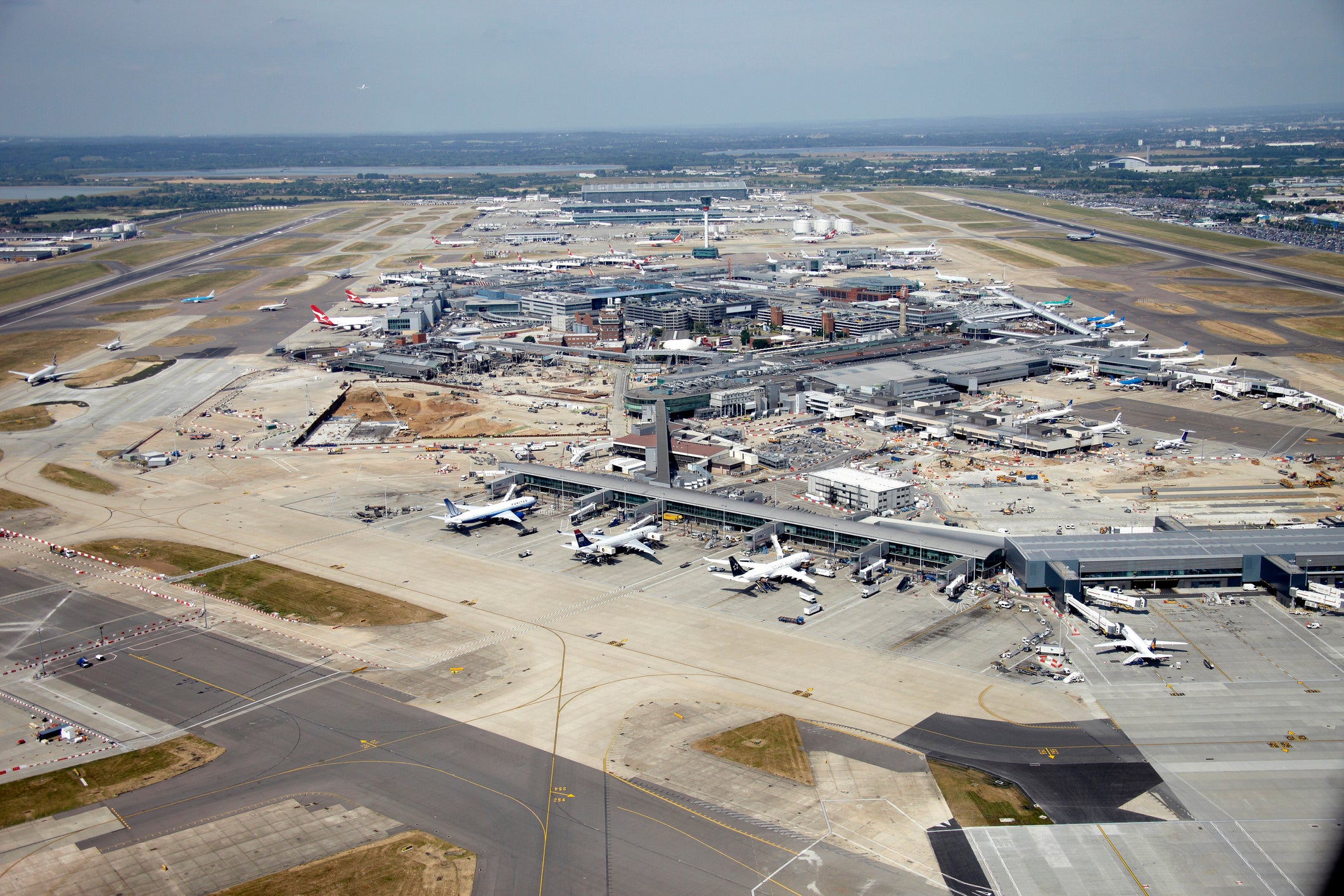 The longer you wait in line, the more frustrated you're likely to get.
You may be tired and hungry, or have restless children who have become thoroughly bored of the "let's wait in this slow line" game.
I have witnessed some passengers become visibly irate at the long wait times and take this out on Heathrow airport staff who move through the arrivals hall to direct and monitor the queues. Abusing these staff will not get you to the front of the line any faster. If there is only a handful of electronic gates open and hundreds of passengers waiting to use them you can politely ask staff if they could switch on more gates though they may decline this for reasons outside of their and your control.
Also, no matter how ridiculously long the wait is, don't film it for social media. Staff members are very strict about this and will have a stern conversation with you if they observe you filming their workplace, no matter how outrageous the line is.
Heathrow airport's arrival process is rarely a pleasant experience, but it has become significantly worse due to a combination of constantly changing travel rules, isolating immigration staff and uneven arriving passenger numbers. The best tip is to use the ePassport gates when available, get to the arrivals hall as quickly as possible and, when all else fails, calm and carry on in the main queue.
Featured image by Hollie Adams/Getty Images
Sign-up Successful!
Welcome to The Points Guy!