Beat the heat: Why you may want to visit these top Southern Hemisphere destinations right now
This post contains references to products from one or more of our advertisers. We may receive compensation when you click on links to those products. Terms apply to the offers listed on this page. For an explanation of our Advertising Policy, visit this page.
With record-breaking temperatures blazing across Europe and North America this summer, now may be a good time to consider a trip to the Southern Hemisphere. After all, June, July and August comprise the region's winter season, meaning you'll find much more bearable temperatures than those currently available in the Northern Hemisphere.
Thanks to the Southern Hemisphere's wide array of destinations, you'll have your pick of top-notch places to go. Whether you're seeking a vacation full of time spent schussing the slopes or lounging on beautiful white sand beaches, these eight spots in the Southern Hemisphere will keep you cool and content this summer.
For more TPG news delivered each morning to your inbox, sign up for our daily newsletter.
The Andes, Chile and Argentina
Average high in August: 1 degrees Celsius (for Portillo).
Average number of snowy days in August: 10 (for Portillo).
Head south to the Andes Mountains to enjoy skiing in South America this summer. First-class ski resorts like Portillo, Chile, and those near Bariloche, Argentina, attract ski teams from around the world for summer training and have long been tourist hot spots thanks to the cool, crisp air and sublime powder.
Because weather conditions at the popular resorts in this mountain range are not normally extreme, you'll thankfully enjoy a comfortable climate featuring average daytime temperatures hovering around 1 degree.

Ski fanatics can stay at on-mountain resorts like Ski Portillo in Chile, but those looking to partake in a mix of activities both on and off the slopes may want to commute to a ski resort from a points property. Consider staying at the Hampton by Hilton Bariloche Argentina Hotel if you want to be within a short drive of Centro de Ski Nórdico Cerro Otto, or bed down at The Ritz Carlton, Santiago if you prefer being close to the stellar runs at Valle Nevado.
Related: 7 Winter Ski Destinations to Spend Your Summer Vacation
Cusco, Peru
Average high in August: 20 degree Celsius.
Average number of rainy days in August: 2.
June to August is definitely peak season for those wanting to explore the wonders of Cusco, Machu Picchu and the surrounding areas, so prepare to contend with crowds if you visit in summer.
Know, though, that the pleasant weather will more than mak5e up for the lack of elbow room. Average highs often sit between 19 and 21 degrees throughout the year, with skies mostly clear during the dry peak season months. Both will come in handy while enjoying the array of outdoor activities the region is known for.

I visited in March 2018, one of the rainiest months for the area, and my group got stuck in a mudslide while doing the Salkantay Trek (a popular alternative to the Inca Trail) because of heavy rain. It wasn't a very pleasurable experience, to say the least.
Since Cusco sits at a much higher altitude than most people are used to, it's worth spending a few days adjusting to the altitude before embarking on an adventure like a multiday hike. Doing so will ensure you can fully appreciate the region's fusion of Inca heritage, colonial buildings and, of course, the continent's most prominent archaeological site.
Related: 7 best ways to get to Peru on points and miles
Mauritius
Average high in August: 26 degrees Celsius.
Average number of rainy days in August: 5.
Let's start with the basics: The small island of Mauritius is a former French and British colony. Roughly the same size as Kauai, it's located in the Indian Ocean, just east of Madagascar.
A couple of TPG staffers have visited in the past few months and rave about the dreamy destination. It's certainly a great subtropical spot to visit if you want to escape the crowds in Europe while avoiding the Caribbean's hurricane season.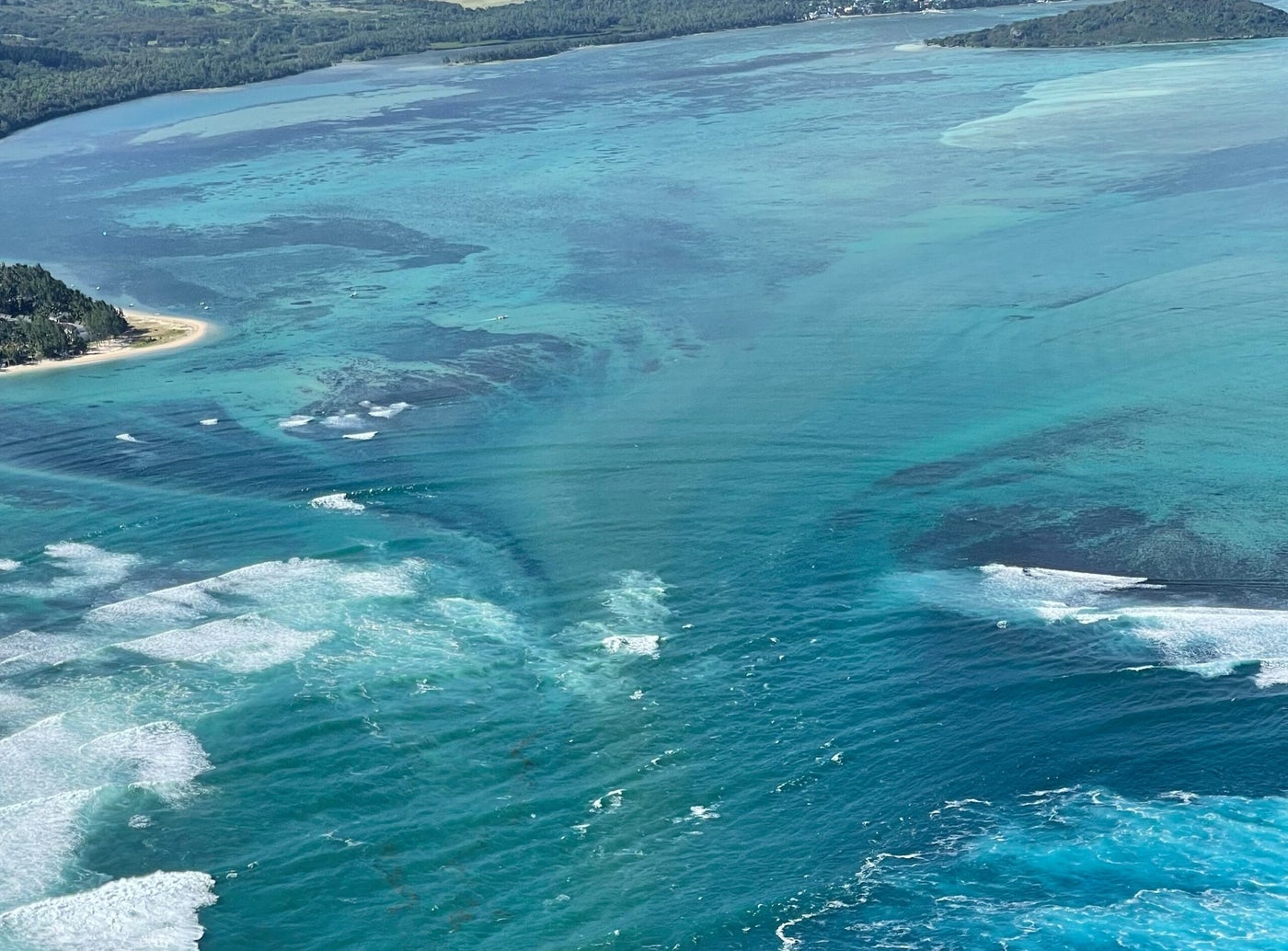 Keep in mind that it does take some time to get to Mauritius — the shortest flight from New York is a little more than 21 hours, or roughly the same amount of time as a flight to Sydney. However, once you arrive, you'll enjoy delicious food — including tasty Indian fare thanks to the island's large percentage of residents with ties to India — and pleasant seawater temperatures in the mid-70s.
Because this time of year is the low season, you'll enjoy more peace and quiet, too, making it possible to tick off some bucket list-worthy activities like seeing Mauritius' "underwater waterfall" without hordes of tourists being around you at all times.
Related: Why Mauritius should be at the top of your travel to-do list right now
Northern Australia
Average high in August: 23 degrees Celsius (for Brisbane).
Average number of rainy days in August: 4 (for Brisbane).
As a native Sydneysider, I'm passionate about helping readers get the most from their visits Down Under. The country is a great place to visit year-round, and due to its impressive size (it's almost as large as the contiguous U.S.), it's easy to tailor your itinerary to whatever piques your interest.
Australia's winter months of June, July and August are a terrific time to visit the top half of the country, as you'll be able to get out and immerse yourself in nature without worrying about the threat of a hurricane (or cyclone, as they're known here). So, you can spend your vacation checking out the world-renowned Great Barrier Reef, the lush Daintree Rainforest and the breathtaking Whitsunday Islands, among other noteworthy locations.

These months are also a superb time to check out the Northern Territory, where you'll find a number of can't-miss national parks, including Kakadu, Litchfield, Nitmiluk and Uluru-Kata Tjuta.
If you're OK with chillier weather, you can head to Sydney and Melbourne, too. Just be sure to don a sweater and long pants. You can even go skiing and snowboarding in the nearby Snowy Mountains if you're eager to shred some powder.
Related: The best ways to use points and miles to fly from the U.S. to Australia
Rotorua, New Zealand
Average high in August: 13 degrees Celsius.
Average number of rainy days in August: 12.
Skiers flock to New Zealand's South Island in August for phenomenal snow conditions. As a result, crowds will be thick and prices high.
To save some money (and possibly your sanity), consider Rotorua instead. This under-the-radar spot on New Zealand's North Island is about a three-hour drive south of Auckland, though short flights between the two cities are available as well.
Rotorua has a unique combination of world-class mountain biking and hiking along redwood-lined trails. Plus, the city sits close to numerous natural hot springs, so you can soothe your sore muscles after breaking a sweat outdoors. When you're not wandering the mountain trails or taking a dip in the hot springs, visit some of the parks around the scenic city.

Fewer tourists vacation in Rotorua during this time of year, so you'll find that attractions are mostly empty and hotel rates are relatively low.
Related: How to get to (and stay in) a reopened New Zealand on miles and points
Rio de Janeiro, Brazil
Average high in August: 25 degrees Celsius.
Average number of rainy days in August: 5.
Yes, you'll miss the world-famous Carnival celebration, which occurs every year in February or March, but you'll also avoid the crowds and higher accommodation costs that come with a visit during this peak season. Additionally, you'll skip much of the warmer season's rain by visiting during the cooler winter months of June, July and August.
When deciding what to do here, start with a visit to Rio's most well-known attraction: Christ the Redeemer. This grandiose statue towers over the beachside city. You'll also want to take the cable car to the top of Sugarloaf Mountain to get a bird's-eye view of the whole coastline.

If you have some additional time to spare, venture to Brazil's largest metropolis: São Paulo. Only a quick one-hour flight away from Rio, this sprawling city features more than 100 museums, including the can't-miss São Paulo Museum of Art, and a diverse food scene.
Related: The Top 6 Ways to Fly Business Class to South America Using Miles
Fiji
Average high in August: 29 degrees Celsius.
Average number of rainy days in August: 4.
Fiji is a destination many travellers seek to visit at least once in their lifetimes — and for good reason. This South Pacific archipelago is home to stunning stretches of sand, crystal-clear lagoons and friendly locals eager to share their traditions and culture with visitors.
The months that comprise North America's summer season are the busiest here, as many travellers from Australia and New Zealand come in droves to get a dose of vitamin D, so do be prepared for crowds. You'll quickly forget this inconvenience, though, while sipping on a cocktail beneath mostly clear skies.

You can take advantage of a sweet spot in the Alaska Airlines Mileage Plan program to get to and from Fiji. If you opt to visit either Australia or New Zealand first through this Alaska Airlines offer, you can enjoy a free stopover in Fiji for only 55,000 miles in Fiji Airways business class.
Related: TPG Readers Share Their Best Tips for Flying to the South Pacific on Points and Miles
South Africa
Average high in August: 20 degrees Celsius (for Johannesburg).
Average number of rainy days in August: 2 (for Johannesburg).
Visiting South Africa in June, July or August comes with several key benefits. To start, you'll encounter cooler temperatures and fewer tourists. Additionally, you'll have the opportunity to spot whales along the coast and the Big Five (lions, leopards, rhinos, elephants and African buffaloes) in the country's interior thanks to this season being an ideal time for whale watching and safaris.
Safari enthusiasts should visit Kruger National Park in August, as the vegetation has thinned out enough this time of year to improve your chances of seeing all kinds of wildlife. The weather is generally rain-free, too, so you'll have clearer viewing conditions during game drives.

Temperatures in coastal destinations like Cape Town are probably too low for surfing (unless you're an expert who's used to surfing in all kinds of conditions), but the city's thinner crowds mean you can easily score a great deal on a hotel and enjoy ample room while visiting top attractions like Table Mountain.
Related: 6 reasons why you should visit Cape Town, South Africa
Bottom line
From tropical destinations with plenty of sun and sand to mountainous regions offering ideal conditions for skiing, the Southern Hemisphere is the perfect place to go on vacation this summer. Although you'll need to travel far to reach these noteworthy locales, you can rest easy knowing that once you arrive, you'll have a variety of ways to stay cool.
So make the trek south for a fun-filled getaway to the Southern Hemisphere. You'll thank us as you cool off in the ocean or explore the great outdoors with a pair of skis strapped to your feet.
Featured image of Ski Portillo in Chile by Bill Fink/The Points Guy.
Sign-up Successful!
Welcome to The Points Guy!