From FastPass+ to Falcon rides: All about Star Wars: Galaxy's Edge at Walt Disney World
This post contains references to products from one or more of our advertisers. We may receive compensation when you click on links to those products. Terms apply to the offers listed on this page. For an explanation of our Advertising Policy, visit this page.
Editor's note: This post has been updated with new FastPass+ information for Millenium Falcon:Smugglers Run. It was last published on Jan. 23 2020.
Star Wars: Galaxy's Edge brings the far-away planet of Batuu into the gates of Walt Disney World in Florida. There's Chewbacca, the Millennium Falcon, Rey, a cantina, blue milk, a hideout where you can construct a lightsaber and so much more. With the second attraction, Star Wars: Rise of the Resistance, now operational, you'll need a plan to maximize your time at the edge of the galaxy.
Related: Guide to Star Wars: Galaxy's Edge at Disneyland
You can find the Star Wars planet of Batuu at both Disneyland and Disney World. The two versions of Star Wars: Galaxy's Edge share many elements, but they aren't identical twins. Here's an overview of Star Wars: Galaxy's Edge within Hollywood Studios at Walt Disney World and a peek at what differs between this location and the Disneyland version, located over 2,100 miles away as the Millennium Falcon flies in California.


Galaxy's edge basics
Set in Disney's Hollywood Studios, Galaxy's Edge has two entrances — one near Muppet Vision 3-D and one next to the Alien's Swirling Saucer side of Toy Story Land). With roughly the same 14-acre footprint as its counterpart at Disneyland, the two lands share the main key components: Millennium Falcon: Smuggler's Run (ride), Rise of the Resistance (ride), Oga's Cantina (themed bar, kids allowed), Docking Bay 7 (serves food all day), Ronto Roasters (serves a limited, but good menu), Savi's Workshop (build a lightsaber), Droid Depot (build a droid), Milk Bar (blue and green "milk") and other assorted shopping and snacking outlets.
Related: How to use points to buy Disney tickets


Rides at Galaxy's Edge
Millennium Falcon: Smugglers Run
A cornerstone of Galaxy's Edge at both parks is unquestionably the life-size Falcon, parked right outside the entrance to the ride that bears its name. For a die-hard Star Wars fan, seeing the Falcon for the first time is a moment to remember. If you're going to go all teary-eyed living out your Star Wars dreams, this is probably where it's going to happen first.



Regular waits for the ride often top out at around 60 to 90 minutes, which isn't awful for a new Disney ride. However, if you go to Hollywood Studios right at the park's opening, you can likely cut your wait time down dramatically. A single-rider line is great for couples or families with older kids.
But, the recent biggest news is that Disney World has now announced a starting date for FastPass+ at Smugglers Run. Guests arriving on or after Feb. 19, will have the opportunity to snag a FastPass for Smugglers Run. At the same time, Disney World has updated Tier 1 for FastPass+ at Hollywood Studios, with both Smugglers Run and the popular Slinky Dog Dash the only two rides in that tier. That means you can only select one or the other ride ahead of time.
Most likely, these FastPass+ reservations will go predominately to those booking 60+ days out thanks to staying at a Disney property (or one with similar benefits) since booking FastPass+ 60 days out, instead of just 30, is a perk bestowed on guests of select resorts.
Whether you wait in line, or use a FastPass+, once inside, you are given ride instructions from a very lifelike Hondo. Hondo is quite impressive and leaves the animatronics of yesteryear firmly in the space dust.
For more TPG news and travel tips delivered each morning to your inbox, sign up for our free daily newsletter.



The Millennium Falcon is an interactive simulated flying ride, where what happens on the ride depends somewhat on your crew. There's no doubt the pilots are the most involved of all the positions. I prefer the right seat (up and down) to the left (side to side), but both are fun. The enjoyment of this ride is greatly influenced both by your assigned position and who else is flying with you in the cockpit. Riding it with my young girls flying was a ton of fun — though we wrecked the Falcon up from tip to tail.
(Oh, and we totally spotted a "Hidden Mickey" on the wall right before entering the ride part of the attraction, so Mickey has indeed made his way to Batuu.)


Star Wars: Rise of the Resistance
While Smugglers Run can be a lot of fun with the right crew, it is the Star Wars: Rise of the Resistance that is the land's main attraction. It's not just a ride, but an almost 30-minute experience that takes you fully into the world of Star Wars in a way unlike any attraction before it.



The attraction has multiple components and more than one ride vehicle and location. You'll encounter a legion of stormtroopers, bad guy Kylo Ren, a holographic Rey, a "real" BB-8, a "red hot" lightsaber and so much more. Experiencing Rise of the Resistance takes a bit of strategy as the attraction does not utilize FastPass+ and is currently operating utilizing boarding groups via a new virtual queue.



To request a boarding group position for the attraction, visit your My Disney Experience app when your party is within the gates of Disney's Hollywood Studios and the park is open. You can also do this at guest services if you don't have the app or phone capable of downloading the app. While things are all still new at this point, the boarding positions for the entire day can fill shortly after the park is open. This means ensuring you are at the park before opening time is still important, though you don't need to get there hours in advance.
It's also worth noting that having a boarding position does not guarantee you get to experience the ride in the event your number is not reached on that day. However, things have been speeding along well most days and back-up boarding positions may become available if Disney gets through all the official positions handed out in the morning.
Related: Disney World introduces virtual queue for newest attraction



Our advice: Book a FastPass+ for Slinky or Falcon 60 days before the start of your trip. Then, get to the park before the scheduled opening time and request a boarding position for Rise of the Resistance as soon as possible. Next, go enjoy the Falcon ride or Toy Story Land (whichever you don't have a FastPass for).After that, do other rides, take a nap or whatever you wish while you wait for your boarding group to be summoned via a pop-up in the Disney app.



Trust us, this ride is worth the effort and you'll love not waiting in a super long line thanks to the virtual queueing.
Related: Best rides at Disney Parks around the world
Make reservations
You can make reservations to build a lightsaber at Savi's, visit the Droid Depot or enjoy a cool drink at Oga's Cantina, space permitting. Waiting in line the old-fashioned way for these activities is sometimes permitted when space allows, but try and make a reservation in advance if you can.



To visit Oga's, you can make dining reservations up to 180 days in advance of your visit on Disney's website. Note that you aren't going to enjoy a full meal at Oga's, but you absolutely want to reserve a spot to check out the space to enjoy a snack and a drink.




You can also make reservations to construct a lightsaber at Savi's or a droid at the Droid Depot, both of which are very cool experiences. Know that building a droid cost about $100 and lightsabers start around $200.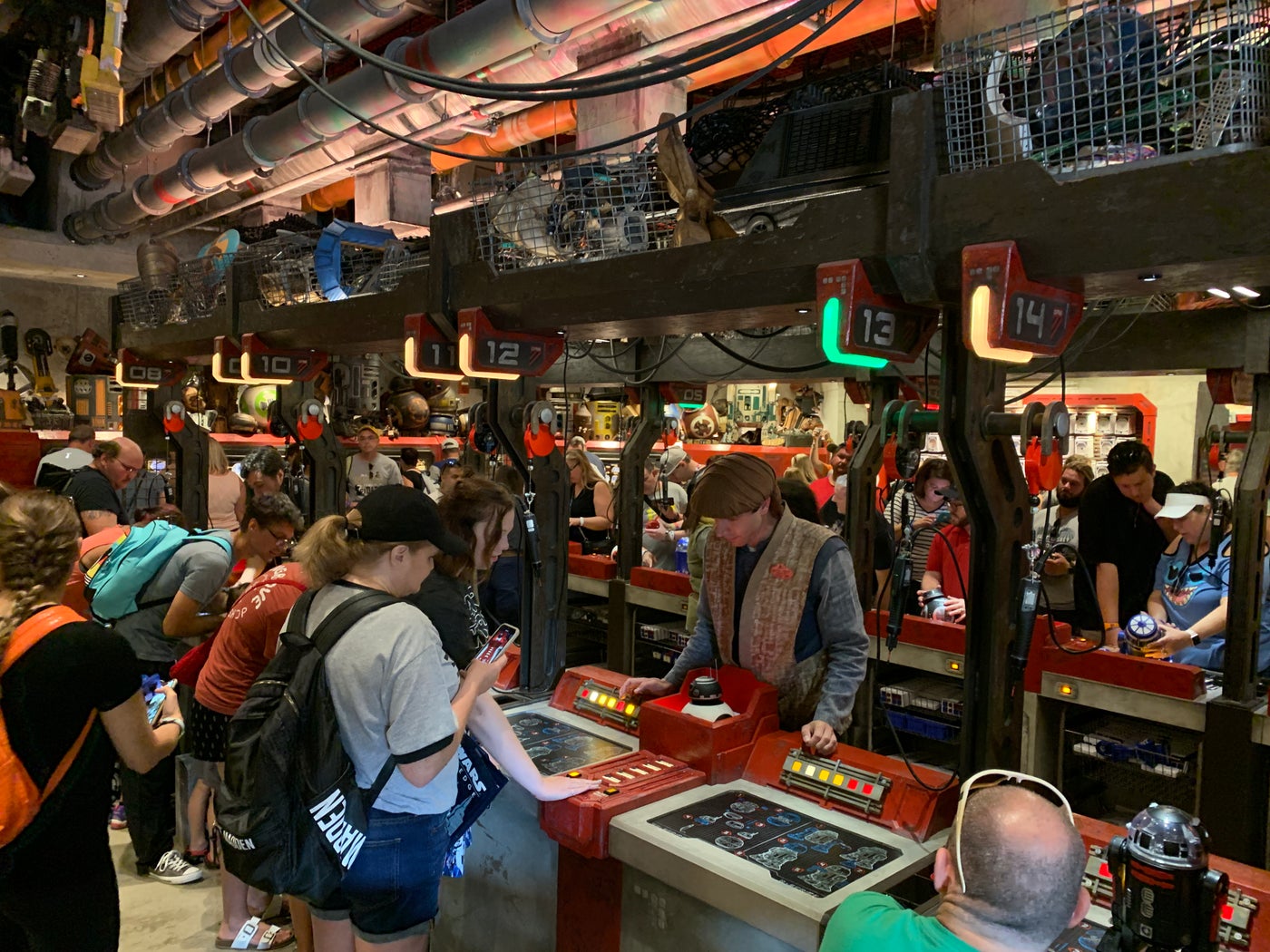 Related: Save money on Disney hotel stays renting Disney Vacation Club points
Buying Galaxy's Edge merchandise
There are other shopping options on Batuu where items cost fewer "credits" (as they are called in this galaxy) than a crafted droid or saber. There's an entire marketplace where you can browse, buy and chat with shopkeepers.



A stuffed porg and Yoga (we'll just pretend it's baby Yoda from the Mandalorian series) have followed us home from Batuu.



However, if you want traditional Disney and Star Wars-branded pins, T-shirts or other merchandise, you have to get those provisions after you leave Galaxy's Edge in other areas of Hollywood Studios. The only items sold within the land are ones that you would find on the real planet of Batuu, such as toy creatures, Jedi cloaks and bottles of soda shaped like thermal detonators.
Eating in Galaxy's Edge
The lunch line for Docking Bay 7, the only true quick-service restaurant in the land, can stretch out of the building during peak times. You'll want to use mobile ordering to cut down on the wait when it's busy. Here are our favorite food items in Galaxy's Edge. Hint: The blue and green milk are not our favorite items. Also, note that this isn't the best place to eat if your crew is craving theme park staples like burgers and fries.



I recommend the sausage wraps from Ronto's for a quick and tasty bite. If you just want a snack, the red and purple popcorn isn't bad either.


Comparing Galaxy's Edge at Disney World and Disneyland
The look
Having visited both versions of Galaxy's Edge, I felt like the Disney World version differed in subtle ways from Disneyland. The coloring and details of the two lands are not identical, even though the main elements remain constant.
For example, I found the colors at Disney World to be a bit brighter and more vibrant than at Disneyland. While I didn't count tables and chairs, the Galaxy's Edge at Disney World also appeared to offer more seating throughout than what was available in California.


The drinks
Then there's the issue of alcohol, which is served in both parks, but only within Oga's Cantina at Disneyland. In fact, Oga's is the only public spot in all of Disneyland where you can order an adult beverage. At Disney World, you can purchase alcohol throughout the park, including at Docking Bay 7 in the form of a Takodana Quencher, made of berry rum, pineapple and kiwi, or a Gold Squadron lager. For those feeling a little braver, $14 gets you alcoholic blue or green milk at Disney World — with rum for the blue, tequila for the green.


The food
Food items on Batuu vary a little too, though not in huge ways. For example, the ronto morning breakfast wrap ($12) comes with what seemed like an egg patty at Disney World, whereas the eggs were scrambled at Disneyland. I preferred the Disneyland version by a small margin, though both were solid choices. Here are our favorite Galaxy's Edge food picks.
The weather
Even if the lands were 100% identical, the experience and functionality of the land in California vs. Florida will inherently differ because of climate. According to Best Places, Anaheim experiences precipitation 35 days per year while Orlando experiences more than three times that number, with 114 annual days of some precipitation. During the summer months, Florida afternoon storms are the norm at Disney World. The reality is that there's not a ton of built-in places to escape from showers on Batuu if you aren't in one of the two attractions.
For example, the open-air Black Spire market is lovely, but the stores aren't nearly large enough to hold many shoppers looking to wait out the rain.



Even on a nice day, there's not a ton of respite from the Orlando sun on Batuu. Disney does have some umbrella shades up, but pack your neck cooling towels and water bottles or try to plan an early or late-day visit during the summer months.


Overall impressions
Star Wars: Galaxy's Edge is similar enough at both Disney World and Disneyland that there's no reason to purposefully visit both parks unless you are a true die-hard. The new land was a bit incomplete with just one included attraction, as there's only so many droids and hand-crafted lightsabers one family probably needs to build at those prices.
However, with the opening of the outstanding marquee attraction, Rise of the Resistance, Galaxy's Edge feels whole. That attraction is breathtaking for Star Wars fans to experience, and is likely impressive even to a park-goer who isn't normally into all things inter-galactic.



Galaxy's Edge as a whole is not only beautifully well done but brought to life by a cast that owns their roles. From Kylo Ren's patrol throughout the land, the First Order guards on Rise of the Resistance attraction, and right down to the shopkeepers and cashiers in the marketplace, cast members stay in character.
Galaxy's Edge is now a Disney World must-visit. The utilization of a virtual queue for Rise of the Resistance should be enough to ward off fears of wasting all day in line, even though the land does not currently offer FastPass+ and the new attraction goes down for periods of time.
If I were making a wishlist of future additions, I'd love to see the addition of a Star Wars parade, a scheduled show, more of the original trilogy's characters integrated and maybe an interactive themed play area for little kids. But, my wish list aside, there's plenty to do in Galaxy's Edge if you've ever wanted to experience a world far, far away.



To plan your adventure to the other side of the galaxy, here are some tips:
Additional reporting by Edward Pizzarello.
Sign-up Successful!
Welcome to The Points Guy!