The ultimate guide to booking train travel in the UK
This post contains references to products from one or more of our advertisers. We may receive compensation when you click on links to those products. Terms apply to the offers listed on this page. For an explanation of our Advertising Policy, visit this page.
As much as we love all things planes and flying at TPG, sometimes we like to take the train, too.
The rail network in the U.K. is the oldest in the world and boasts over 20,000 miles of track.
The network was privatised in the Nineties which means that the entire system is broken up into approximate areas in which 28 companies operate. Each company runs trains on routes in more or less specific zones of the country, though there is some overlap. For example, LNER (London North Eastern Railway) operate routes from London King's Cross to towns and cities in the north like Leeds and to Scotland via the east coast calling at major towns and cities like Peterborough, York, Durham and Berwick.
Not only can you get pretty much anywhere by train, many parts of the country offer breathtaking views of spectacular scenery that you just don't get when you drive or fly.
Follow The Points Guy on Facebook and Twitter, and to ensure you never miss anything, subscribe to our daily newsletter.


Related: 7 of the best train routes in the U.K.
Buying tickets
Each rail company has its own website where you can buy tickets not only for travel on its own trains but across the entirety of the U.K. network, too.
When booking flights, we often advise you to book directly through the airline's website but with trains, it's a different story. Trainline.com is an independent rail and coach ticketing platform which partners with both British Airways and Virgin Atlantic through their online shopping portals, meaning that you can earn extra air miles when booking your train travel.
Related: Emirates opens online shopping portal for UK members
For those who have never used Trainline through the shopping portals before, you will receive 5 Avios per £1 through the BA eStore or 4 Miles per £1 spent through Virgin's Shops Away. Returning customers will receive 1 Avios or 1 Mile per £2 spent, depending on whether it's BA or Virgin's online shopping portal that is used.
It's also worth noting that there are several railcards for purchase which can save you up to a third off your rail fares. It's definitely worth looking into whether you qualify for one, as more often than not, you can make back the cost of the railcard with just one ticket purchase.
Ticket types
There are several types of ticket available for purchase, depending on the kind of travel you're looking for and the level of flexibility you need.
"Advance" tickets are only valid on the date and train specified on the ticket. These tickets often provide excellent savings, especially if it is booked as two single journeys rather than a return. Only a limited number of these tickets are sold.
"Off-peak" tickets are also a cheaper option. That is because passengers are restricted to travelling at times when the rail network is less busy. For example, in large towns and cities, off-peak travel is only permitted after 9:30 a.m. Weekends and bank holidays are always off-peak. This ticket provides more flexibility than an "advance" ticket because passengers are permitted to take any train, so long as it falls in the off-peak period.
"Anytime" tickets are usually the most expensive, and always the most flexible. There are no restrictions on when passengers can use these tickets. As an added bonus, passengers are permitted to break their journeys up at other towns and cities before they reach their destination.
Related: 11 of the most scenic train rides on earth
Split fares
Fare splitting is a relatively new phenomenon where instead of buying one ticket for your journey, buying two or more tickets can save a significant amount of money.
It's not always the case, but it's always worth double-checking. The great part is, for journeys that don't have changes, even if you buy two or more tickets, you don't have to get off your train as the journey is still covered — but by your multiple tickets.
The easiest way to do it is for journeys with changes, as they act as a natural break in the journey to split your fare — rather than look at the route and try and figure out what stations the train stops at.
Let's look at an example. Transpennine routes can be notoriously expensive compared to other routes in the country, especially when booking last minute.
This ticket from Liverpool to Durham costs £79 one-way, which, you might not think, is not unreasonable.

However, when looking at the journey details more closely, there's a change of train and a 16-minute wait in York.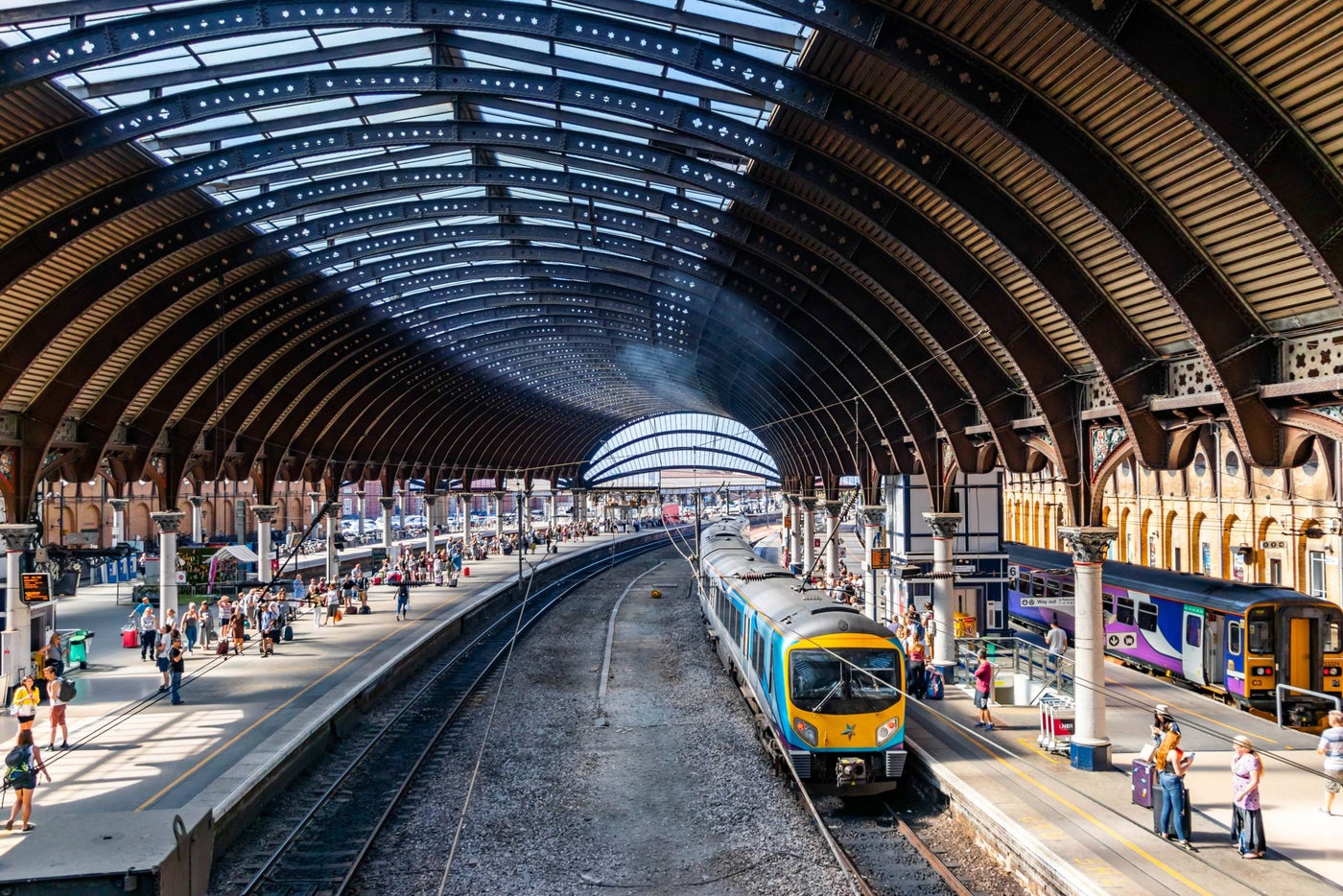 If we search for those two journeys separately, we can see that the journey becomes significantly cheaper. The journey from Liverpool to York on the exact same train costs just £16.

And the journey on the second train from York to Durham costs just £13.

In total, booking your tickets separately would on this occasion saves about a whopping £50.
Related: 7 of the best train rides in the UK
Being flexible saves money
Rather bizarrely, sometimes first class rail tickets can be cheaper than a standard class ticket.
For example, a first class ticket on the 11:54 a.m. and 1:54 p.m. trains is cheaper than a standard class ticket on the 12:54 p.m. and 2:54 p.m. trains.
Related: An AvGeek converted: Caledonian Sleeper Train from Inverness to London

However, before booking it's worth double-checking the restrictions on the ticket. In this case, the £79 tickets in standard class would give full flexibility, whereas the £39 tickets in first class would restrict you to getting that specific train.
Bottom line
Sometimes the best option when travelling domestically in the U.K. is to take the train (sorry plane). From the highlands of Scotland to depths of the West Country, there's likely to be a station near you. As always when travelling, just make sure that you're getting the best value fare that suits your needs, and more importantly, your wallet. Oh, and don't forget, always book through your preferred airlines online shopping portal to earn those extra miles.
Featured image franckreporter/Getty Images
Sign-up Successful!
Welcome to The Points Guy!