Whisky, walking, royalty and wonderful views: The ultimate Scottish road trip
This post contains references to products from one or more of our advertisers. We may receive compensation when you click on links to those products. Terms apply to the offers listed on this page. For an explanation of our Advertising Policy, visit this page.
Scotland is one of those countries that can have different climates within a short drive from one town to the next. Its landscapes include stunning natural beauty, vast open spaces, quaint fishing villages and old-world charm to complement its famously friendly natives.

While I'd been to Edinburgh a few times, I'd yearned to see other parts of the country and get into the heart of the place a bit more. Because Scotland is such a manageable size, at one-third the size of the United Kingdom with more than 6,000 miles of coastline and well-kept roadway (even the rural ones for the most part) it makes it an obvious choice for road trips.
Follow The Points Guy on Facebook and Twitter, and to ensure you never miss anything, subscribe to our daily newsletter.
Unless you have a month, it's unlikely you'll be able to cover the entire country properly in one trip. If you don't want to be rushed, it's a good idea to concentrate on just one region: You can choose between a combination of the NC500 and NE250, or the Isle of Skye. Here are details on both.

How to get to Scotland
Scotland has four main airports: Glasgow (GLA), Edinburgh (EDI), Aberdeen (ABZ) and Inverness (INV). Glasgow and Edinburgh both have long-haul flights from the United States and the Middle East though some of these are seasonal.
Related: Treated like royalty: A review of Crossbasket Castle, Hyatt's Small Luxury Hotels, Scotland

If you're flying from London it's very easy and inexpensive to connect to any of these four airports with multiple flights every day. The most convenient airport will depend on where you're starting your road trip.
Related: My experience flying from the UK's worst airport to the best
In 2015, the Scottish tourism board launched the North Coast 500 (NC500) — a circular route that runs through the Highlands on the northern peninsula of the country. Two years later, the northeastern peninsula (part Lowlands and part Highlands) launched its own with the Northeast 250 (NE250).
This one circles Speyside, the Cairngorms, Royal Deeside, Aberdeen, the east coast and Moray Coast.

St Andrews
From Edinburgh, St Andrews is an easy hour and 20-minute drive north on the A92.
Start your day off with a wander around the ruins of St Andrews Cathedral. It's free and awe-inspiring. Built in 1158, it was once the centre of the Medieval Catholic Church in Scotland. Just up the road, for £9, you can tour the ruins of St Andrews Castle, which was built less than 50 years later, was home to James I, II and III of Scotland and was also a notorious prison.
As cheesy as it may be, a visit to the café where Kate Middleton and Prince William reportedly met is worth it. Northpoint Cafe has homegrown offerings like full Scottish breakfasts, delicious toasties and plenty of its own baked goods, all for under £12.
Related: 6 tips for surviving a road trip with a large family

After you've filled up, the town's cobblestone alleyways, shop-lined streets and St Andrews University are lovely to walk around. Back over by the ruins, there's a seaside path offering sweeping horizon views as well.
Where to stay: The Saint Bar & Kitchen boasts simple and comfortable rooms that start at about £150 per night. The gastropub is cosy and offers locally sourced Scottish fare at reasonable prices — most main courses are about £20.
The Moray Coast
Cruise two-and-a-half hours up the A90, and you'll hit the north coast of the peninsula, the Moray Coast, which stretches from the inlet city of Inverness out to Fraserburgh on the northeastern point. There's an official coastal walk but there are also unofficial pathways along the entire coast — either beach walks or over rocky points (be sure to check tide times for safety). Do stop when you see sheep, as they're sometimes friendly and love a good ear scratch.
Many of the villages here are built into the seaside cliffs, creating a tiered effect. Gardenstown is one of these, and its sole restaurant the Gardenstown Pub is the perfect place to chat with a few locals and dine on fresh fish for under a tenner.
Related: Leave your passport at home: 7 UK destinations with an international feel

Where to stay: For a tranquil coastal experience, stay at the Mill of Nethermill. Owned by an American expat couple who restored the dilapidated early 18th-century mill, the self-catering cottages sit on a protected cove along the coast where you might get to see some dolphins. Starting at about £100 per night (with a two-night minimum), you also get to visit the vegetable garden or peruse the on-site pottery barn. Pets and bonfires are allowed, and you can even camp on its beach for a smaller fee.
If it's a full-service hotel you seek, Cullen Bay Hotel starts at about £100 per night and is right on the edge of the town where the famous Scottish dish, Cullen Skink (a thick haddock, onion and potato soup) originated. It's much tastier than it sounds.
Speyside and the Malt Whisky Trail
From the coast, drive inland via the A95 to Craigellachie. The tiny town sits in the middle of Speyside, where the Malt Whisky Trail winds through the country with nine distilleries to visit (and taste, just make sure you've got a designated driver!). The area is home to the world's largest concentration of whisky distilleries, of which Strathisla is the oldest continuous running one.
You'll also find household names in the global whisky industry like Glenfiddich, Glenlivet and Macallan.
The distilleries are very spread out, though the town of Dufftown is relatively convenient to visit multiple distilleries in one day. With a huge range of distilleries available to visit in Speyside choose one or two to visit each day. A few will be walking distance from accommodations in the various towns around the region, though as noted above you'll need a car for most distilleries.
Strathisla Distillery, owned by the Chivas Brothers since 1786 — the first they ever owned — has used the same water supply since 1786 from Broomhill Spring on the property and puts out 2.4 million litres of Scotch Whisky per year. Do the traditional tour for £15 each, but I recommend the Blending Experience for £30 per person. You get to really get into the inner workings of the distillery, but the best part is that you get to try your own hand at blending and take it all home with you.
Other distilleries to consider are Glenfiddich and Glenlivet. Both have excellent tours and tastings afterward. Some staff involved in the Glenfiddich distillery process have been with the company for more than 30 years.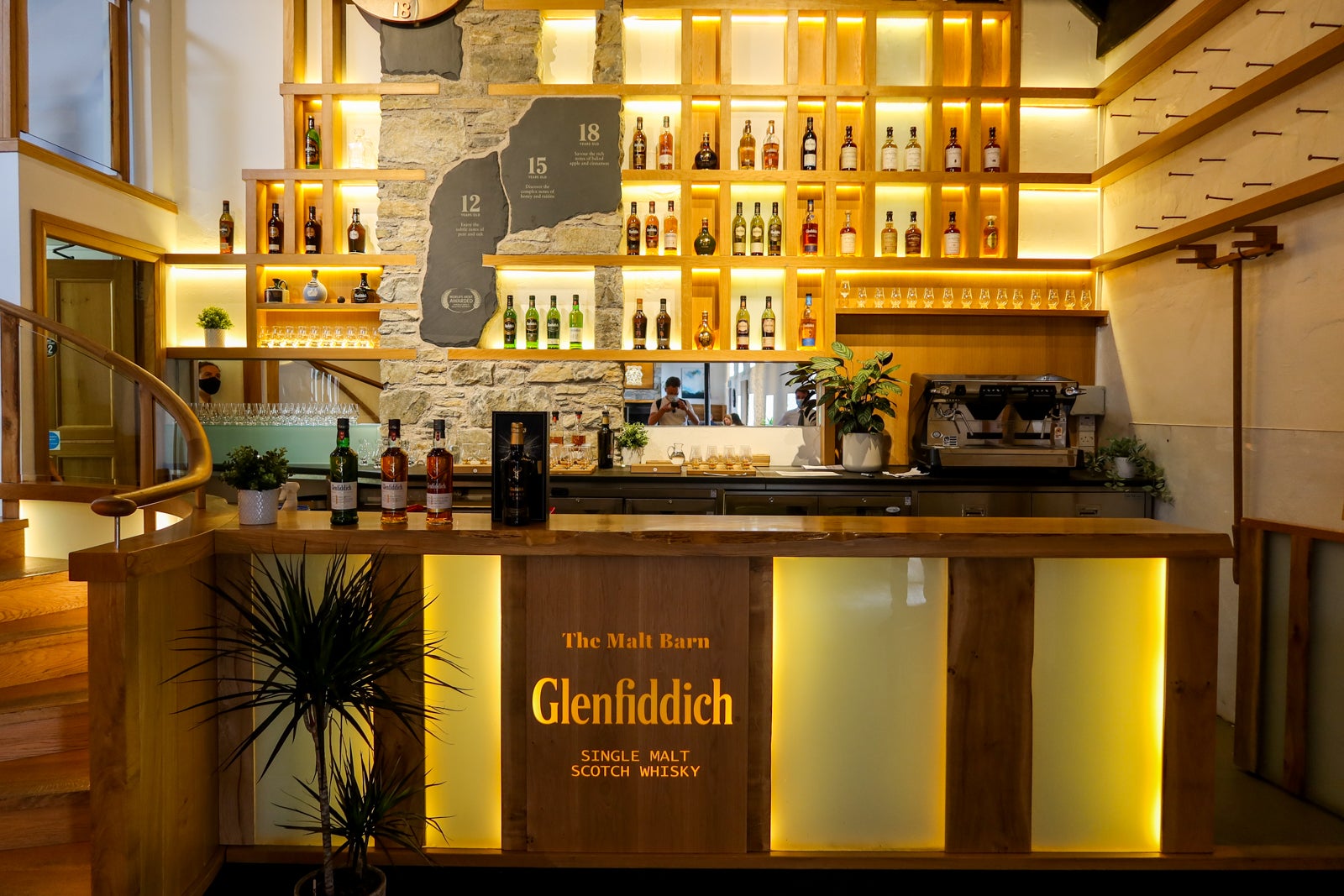 Glenlivet has a brand-new tour exhibition section with a really cool indoor barley field. Because the distillery is now owned by French liquor giant Pernot Ricard, the tour may be very impressive, but it won't feel nearly as personal as the tour at Glenfiddich.
It's fairly easy to visit both distilleries on the same day with the help of a (reliable) taxi.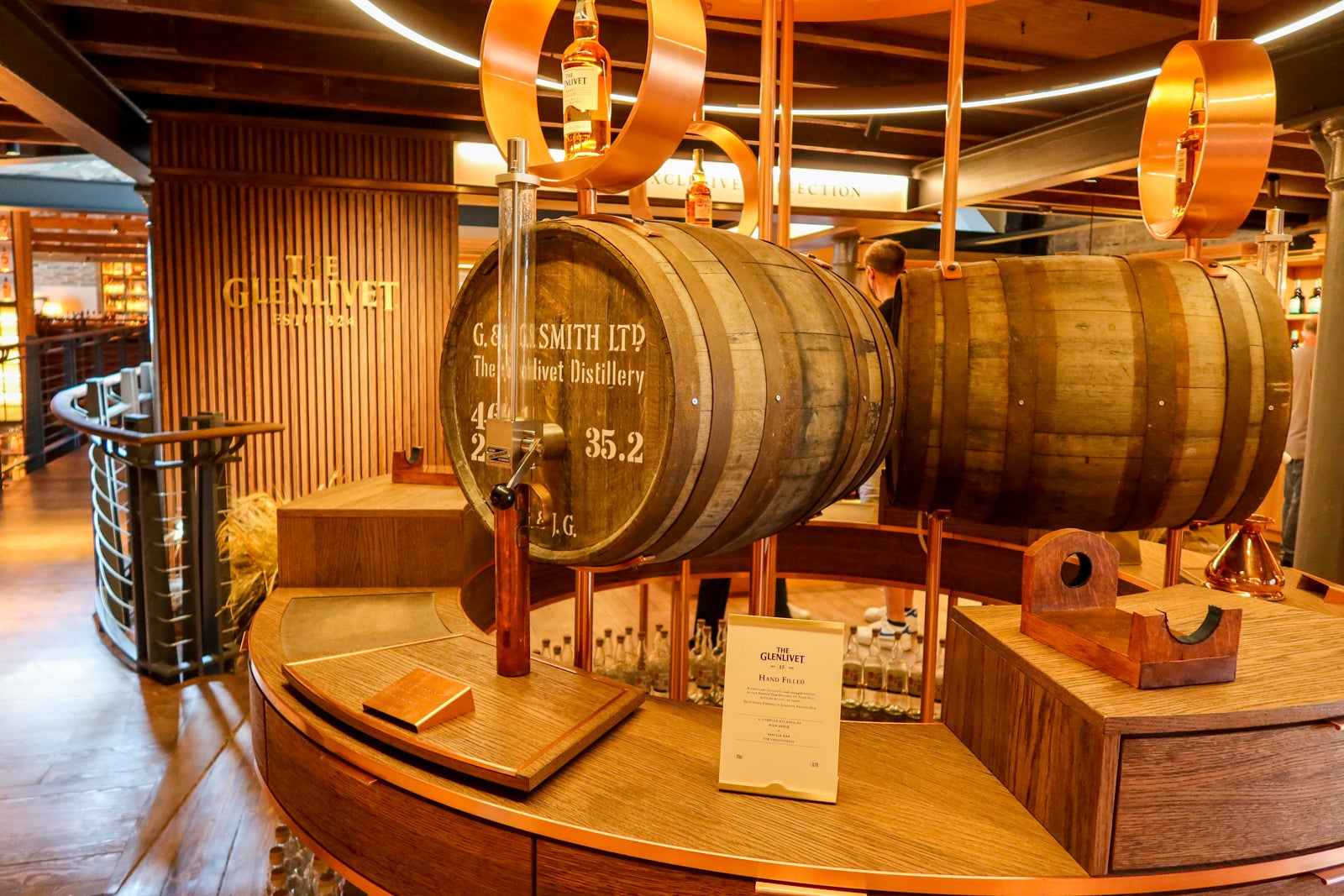 Another really interesting experience, if you've had enough to drink, is the Speyside Cooperage. For £4, visit the epicentre of cask manufacturing and learn how they make and repair over 100,000 casks each year.
Related: The whisky drinker's guide to Scotland
Where to stay: Try the Craigellachie Hotel (at about £165 per night) as this old train station and hotel is the very definition of cosy. There's complimentary whisky in every bedroom, a world-famous whisky snug and a modern gastropub, The Copper Dog, downstairs. This hotel is situated to easily access other distilleries in the area over a couple of days. It sits near the River Spey, which is where the kitchen catches its fresh fish for delectable Scottish salmon dishes.

If it's Thai food you're craving — because Thai food in pubs is a thing in Great Britain — a hop and a skip down the old train line walkway is the Highlander Inn (rooms start at £110 per night). The proprietor prides himself on importing whisky from around the world to his quaint pub, so it's a great spot to try some interesting blends.
Generally, you won't find much in the way of high-end accommodations and fancy restaurants here. But due to the ongoing COVID-19 pandemic, it's a good idea to book make reservations in advance if you're staying anywhere in Speyside.
Scottish Highlands
In under an hour driving south down the A939, you'll hit the edge of Cairngorms National Park. Scotland has large expanses of dark skies, some of the biggest in Europe, and Cairngorms won the prestigious status of International Dark Sky Park in 2018.
It makes this region a free ticket to the stars and at the right time of year, it's possible to see the northern lights from the Tomintoul and Glenlivet viewing areas. It's now Scotland's first Highlands Dark Sky Park.

You can also visit Balmoral Castle, the Queen's summer residence. It's open to the public during the summer months when the Queen is not in residence (she usually stays for the month of August). It's a spectacular building with beautiful grounds to wander through. While you won't be able to enter much of the building, you can learn much about the history of the estate as well as talk to staff about their excitement of preparing the site for the arrival of Her Majesty each year. There's even an onsite pet animal graveyard!

If you're a fan of either the Netflix drama "The Crown" or the movie "The Queen," you might remember the significance of the Royal Family hunting wild deer on the estate, whether it was Queen Elizabeth or Princess Diana. At Balmoral Castle, you can view the oddly named "Venison and Mutton Larder" where game that is shot is hung, dried and prepared as meat.
Where to stay: Sleep at the luxurious Fife Arms in Braemer (starting at around £360 per night), which is about as close to the centre of the park as you can get, and feel like Scottish royalty.
And 45 minutes east, on the edge of the park in Aboyne, The Boat Inn has a lovely little gastropub and beer garden overlooking the River Dee, along with clean and cosy rooms starting at about £120 per night.
Oban and Dornie
If you're travelling from Glasgow or Edinburgh, stop at the gorgeous harbour town of Oban. In the middle of the summer, you are so far north that the sun doesn't set until almost midnight.
If you're coming from Inverness you're also in luck, as you'll be driving right past the famous Loch Ness, a huge, long body of water. There's plenty of places to stop along the way and you can walk down the steps and dip your toes in the water. It's likely to be a bit fresh to actually swim in, though!

On the drive to the Isle of Skye be sure to stop by the Eilean Donan Castle, one of the most recognisable castles in Scotland. And if you're driving past through the village of Dornie, you cannot miss it. COVID-19 restrictions permitting, you may be able to tour inside. The castle was built in the 13th century by Alexander II in an effort to help protect the area from Viking incursions.
It was rebuilt as a family home in the early 1900s and is now open to the public to enjoy.

Where to stay: If you have a large budget, the spectacular Inverlochy Castle Hotel can set you back £620 per night, but is truly one of the most impressive and unique five-star accommodations in Scotland. As a member of Hyatt's Small Luxury Hotels programme you can also earn World of Hyatt points for your stay.
Isle of Skye
The Isle of Skye region is packed full of outdoor activities. Consider staying in the town of Portree which is a sensible base, relatively close to everything in the region. There are all sorts of cute boutique hotels, guesthouses and Airbnbs around the town as well as a handful of restaurants and pubs.
These accommodations will serve up a hearty full Scottish breakfast so you'll be ready for a busy day of activities.

The Old Man of Storr is possibly the most popular attraction on the Isle of Skye and on a summer day, you can expect it to be very busy with tourists from around the world. It's located in the area known as Trotternish, not far from Portree. The impressive natural rock formation can be seen for miles around and is well worth the fairly steep 2.3-mile walk to various viewpoints. Wear proper hiking boots if possible and note that it can get muddy if wet (which, in Scotland, even in summer, is not uncommon).

The Fairy Pools — a series of small waterfalls on the River Brittle near Glenbrittle on the West of Skye — can be a great place to swim if the weather is favourable.

For the adventurous hikers, don't miss the Quiraing route in Trottenernish which shows off some of the most spectacular natural landscapes of Scotland. It's a looped walking trail of almost 5 miles.
Another highlight is the Fairy Glen. If possible, try and visit first thing in the morning where you might have this magical place all to yourself. Children's imaginations will run wild as they try and spot fairies that could live amongst the moss and rocks. While the landscape looks like a ruined, overgrown castle, it's actually a natural formation, with basalt topping still intact.

There is limited parking at the Glen, so if you don't nab one of these spots first thing you can park in the nearby town of Uig and walk in, which takes around 30 minutes.
Where to stay: Try the beautiful Cuillin Hills Hotel for £195 per night in the low season. It was built back in the 1880s and is set on 15 acres of private grounds, with plenty of free parking for customers. It overlooks the beautiful Portree Bay and is an easy 10-minute walk to town to grab a bit to eat.
Bottom line
Travelling around a country in a car can be one of the most pressure-free and flexible ways to explore. You set your own times of when to drive, you pick your own route and, if you've found a spot you adore, you can always extend your visit there.
Scotland is such a great country to drive around because its roadways are well-paved and marked, its size is manageable, and its people are friendly, so getting lost could be the best thing to do.
Additional reporting by Ben Smithson.
Featured photo by espiegle/Getty Images
Sign-up Successful!
Welcome to The Points Guy!