3 ways to support the LGBTQIA+ community during Pride month
This post contains references to products from one or more of our advertisers. We may receive compensation when you click on links to those products. Terms apply to the offers listed on this page. For an explanation of our Advertising Policy, visit this page.
Editor's note: This post has been updated with new information. It was originally published in June of 2020.
---
Pride month always represents a bright spot of joy and celebration for the LGBTQIA+ community, even more so given the extraordinary challenges faced during the past 15 months due to the pandemic. For some people, this will be yet another month of celebrating a tradition as they've done for years. For others, it could be their first time openly embracing Pride after coming out.
It is also a time to be seen and recognised. There was an important step in that direction in the U.S. on 1 June when President Joe Biden issued a proclamation declaring June Pride Month, and promised to fight for full equality for LGBTQ people to be written into law. That was a positive step, as was the executive order Biden signed upon entering office mandating federal agencies to fully enforce all federal laws that bar discrimination due to sexual orientation or gender identity. It's a stark contrast to the previous administration, which had steadfastly refused to even acknowledge Pride in 2020.
The TPG brand was founded on principles of equality for all. Our founder, Brian Kelly, has publicly shared his experiences travelling the world as an openly gay man, and our company supports a number of organisations focused on improving quality of life for the LGBTQIA+ community.
New to The Points Guy? Sign up for our daily newsletter.
However, much work remains to be done on the equality front, especially for gay people in countries with restrictive, homophobic laws. Many individuals worldwide live in fear of persecution because of their sexual orientation or gender identity. Outed people are sometimes ostracised, abused and even killed by homophobic people in their communities or by government officials. And even within the U.S., discrimination can be seen in many areas, such as outdated policies surrounding blood donations.
For several years now, TPG has partnered with nonprofit Rainbow Railroad to rescue LGBTQIA+ individuals such as Montgomery, a Jamaican man who spent more than 30 years hiding his sexuality to stay alive. Now in his 50s, Montgomery was able to escape his dangerous homeland and relocate to the U.S. thanks to a couple of organisations, including Rainbow Railroad. Yet Montgomery is just one of tens of thousands who reach out to Rainbow Railroad each year for help seeking asylum.
This June, Rainbow Railroad is continuing to raise awareness around homophobic discrimination and abuse around the world.
Here's how you can participate:
Get educated about the LGBTQIA+ movement
Knowledge is power, the saying goes. To be an ally and supporter to the gay community, it is important to get a true understanding, including the history of the movement, which stretches back in time further than many may suspect. You can find a host of books to read for Pride Month here, ranging from romance novels to autobiographies from LGBTQIA+ authors. If you prefer to watch and learn, here's a list of 12 films that showcase LGBTQIA+ characters.
Another aspect that is important is understanding the importance of identity, especially with regards to pronouns. Learning to use the proper pronouns and gender identity terms is an easy way to let someone know you respect them. NPR has a guide to gender identity terms that is very helpful.
Learn about Rainbow Railroad's pandemic-specific efforts
Rainbow Railroad helps gay, lesbian and trans people escape attacks, kidnappings or even murder in places like Chechnya and Uganda. According to the organisation, they help rescue people facing "persecution based on their sexual orientation, gender identity and sex characteristics."
COVID-19 has disproportionately affected many of the most vulnerable members of society, including LGBTQIA+ individuals who have been internally displaced, or forced to flee their homes because of persecution.
As with most other organisations, Rainbow Railroad has had to adapt its work during the coronavirus pandemic. The nonprofit offers five branches of COVID-19 support, including life-saving aid to individuals in imminent danger, direct support to partner organisations, emergency responsiveness to government crackdowns on LGBTQIA+ people, in-country resources and safety information for people at immediate risk, and preparing private sponsorships for refugees seeking asylum in the U.S. and Canada.
Furthermore, Rainbow Railroad is calling on governments worldwide to uphold the right to asylum, resume the resettlement of LGBTQIA+ refugees, release LGBTQIA+ asylum-seekers being held in detention centres, and increase resources dedicated to supporting LGBTQIA+ refugees.
Donate directly to Rainbow Railroad here.
Rainbow Railroad announced The Points Guy as its top corporate partner.
In fact, Brian Kelly and TPG are matching donations up to $100,000 to Rainbow Railroad! Go to this link to help: donate.rainbowrailroad.org/thepointsguy.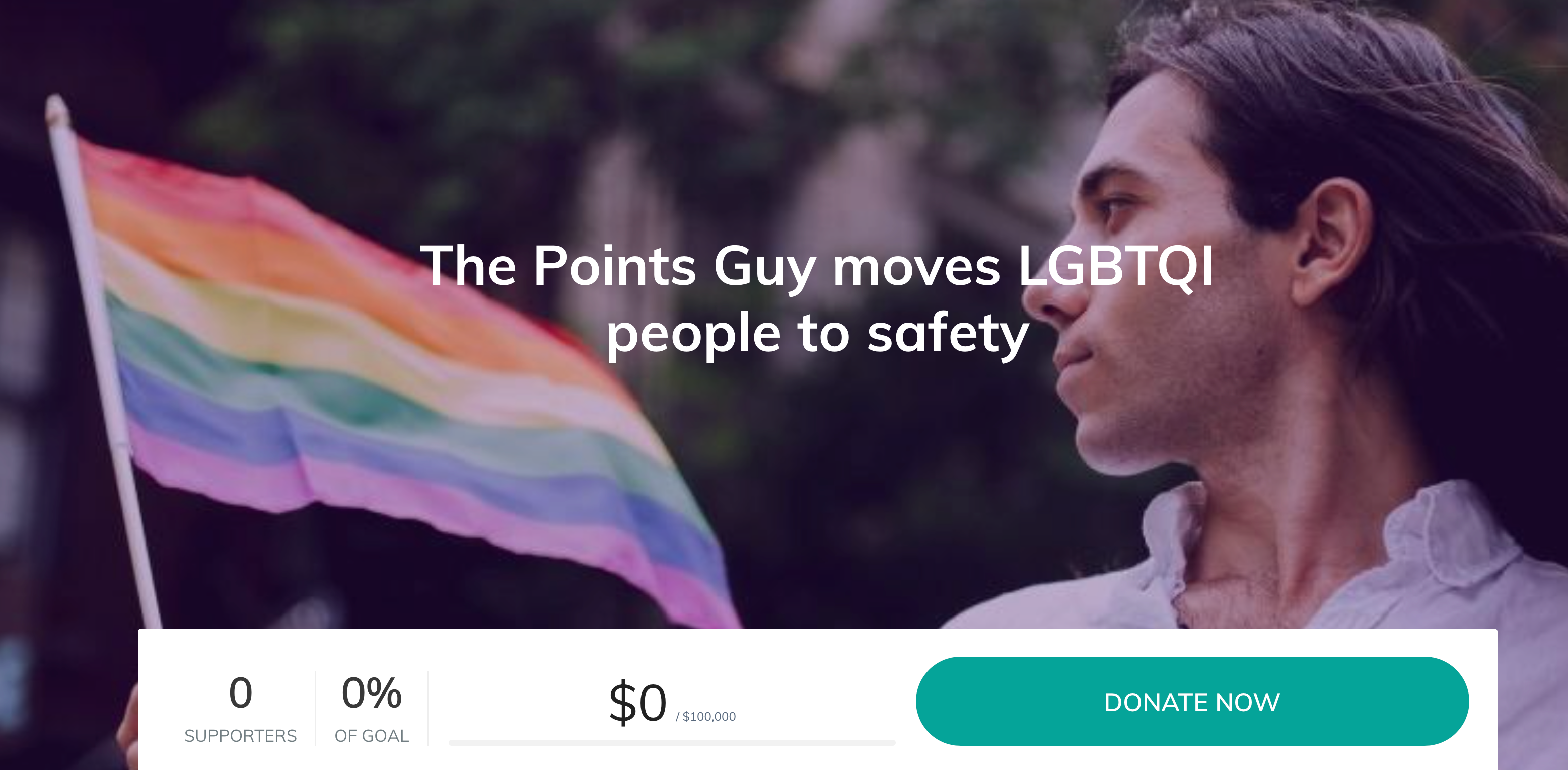 Related: Help Rainbow Railroad rescue refugees worldwide
Donate on Give Out Day, 30 June
Give Out Day falls on 30 June — the only national day of giving for the LGBTQIA+ community. The initiative has raised more than $6 million for over 700 LGBTQIA+ organisations since 2013, and Rainbow Railroad has a dedicated fundraising page.
Rainbow Railroad relies on donations of money, as well as points and miles, to help facilitate rescue and rehabilitation missions for persecuted individuals. Escape missions are often dangerous, uncertain and complicated, and visas, safety concerns and other logistical issues will always be a problem for organisations like Rainbow Railroad. But your money and your miles can help defray the financial expenses associated with travel, which can represent the difference between life and death for hundreds of refugees.
So this June, celebrate Pride month with TPG by supporting Rainbow Railroad. Please give what you can, and help us educate and inform ourselves and our communities to eradicate anti-gay discrimination and persecution.
Additional reporting by Mike Avila.
Featured photo by iStock.
Sign-up Successful!
Welcome to The Points Guy!