5 of the best new cruise itineraries for 2022
This post contains references to products from one or more of our advertisers. We may receive compensation when you click on links to those products. Terms apply to the offers listed on this page. For an explanation of our Advertising Policy, visit this page.
In 2021, we saw cruising return to a state of semi-normalcy, as all major cruise lines brought at least some of their vessels back into service. Although foreign ports still see limited access as we near the end of 2021, it looks like 2022 will be the first year since the start of the pandemic where we see far-flung itineraries picking up steam.
If you are considering a cruise in the coming year and you're in the mood for something different, you'll want to take a look at this list of some of the newest and most unique itineraries you can book right now for sailings through 2022. Because most are total budget busters, we'll also offer some suggestions for maximizing your purchase.
Note: All prices are before taxes and fees unless otherwise noted.
For more travel news, reviews and tips, sign up for TPG's daily newsletter
Western coast of Africa with Hurtigruten
In a first for Hurtigruten, the line is offering a selection of sailings around the west coast of Africa, including Senegal, The Gambia, the islands of Cape Verde and Guinea-Bissau's Bissagos Islands, which are made up of more than 80 beachy islands and islets (only about 20 of which are populated year-round).
Cape Verde voyages are rare, making this ideal for anyone wishing to check the country off their bucket list. Plus, with Hurtigruten's rapid expansion beyond its traditional Norway offerings and into expedition cruising, you can be one of the first to try out this first-for-the-line itinerary, which will be available five times in late 2022 (and into early 2023), departing from Dakar, Senegal.
Details: These 14-night sailings on Hurtigruten's Spitsbergen depart from Dakar in November and December. Prices start at £4751 per person, double occupancy, for an inside cabin. More information can be found on Hurtigruten Expeditions' website.
Pacific Islands with Seabourn

Longing to get away for more than just a week or two? Beginning in the fall of 2022, Seabourn is featuring a 65-day cruise to Hawaii, the Pacific Islands and Australia. The trip will visit 41 ports across 12 countries, and the vessel — Seabourn Odyssey — will stay in port for five overnights throughout the voyage. In addition to the Hawaiian Islands, the ship will call on French Polynesia, the Cook and Solomon Islands, Tonga, Fiji, Vanuatu, Papua New Guinea, and Australia's Cairns, Queensland, Brisbane and Sydney, among other locations.
Related: A beginner's guide to picking a cruise line
Given that this area of the world has largely been locked down for nearly two years due to COVID-19, this could be one of the first chances to visit — and if you're new to the region, it's a great way to cover a lot of ground all at once to maximize your investment.
Details: This 65-night sailing on Seabourn Odyssey departs from Vancouver, British Columbia, on Sept. 30, 2022. Prices start at £29,942 per person, double occupancy, for an oceanview cabin (the most basic available). Find more information on Seabourn's website.
More than £449 per person, per day, is a steep price for many travellers, but if you book by 28 February 2022, you'll snag a ton of included extras, such as free round-trip airfare; door-to-door car service from your home to the airport; a pre-cruise hotel stay in Vancouver; up to £1,123 in onboard credit per person; free Wi-Fi; luggage shipping service; unlimited onboard laundry, dry-cleaning and pressing services; and discounts of 3% if you pay in full at the time of booking.
Iceland (from Boston) with Holland America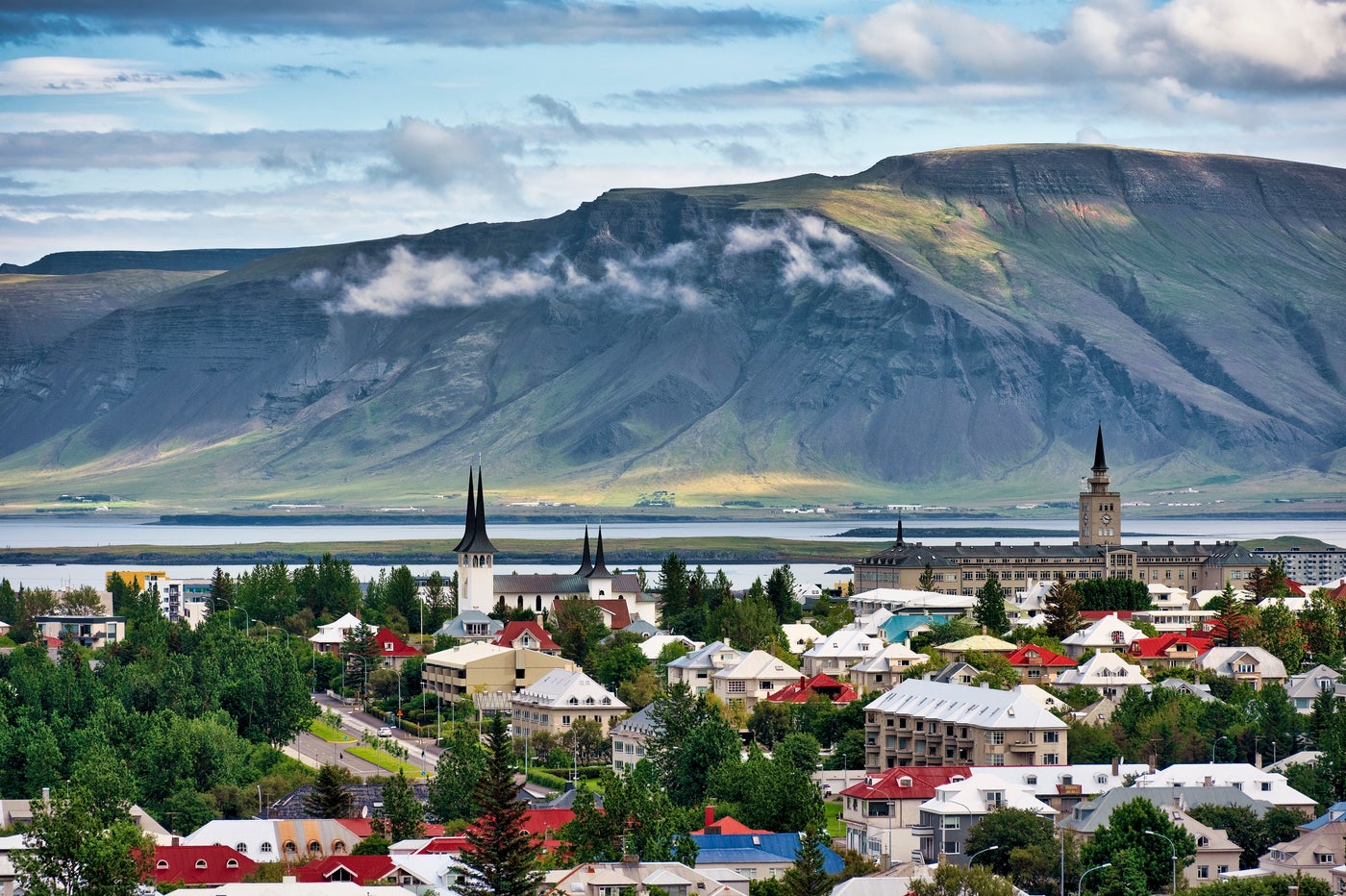 Seeking a slightly more affordable option that leaves from closer to home? Holland America's Iceland circumnavigation sailing from the U.S. East Coast could be just the ticket — especially if you live in the Northeast, which means you'd be able to visit Iceland without a single flight.
This itinerary begins in Boston on Nieuw Statendam, the first of Holland America's Pinnacle-class vessels to sail in Canada and New England. In early August, the ship will make its debut in the region with this 24-day voyage, which will visit Maine in the U.S., Nova Scotia and Newfoundland in Canada, and eight ports across Greenland and Iceland, including Reykjavik (with an overnight) and Akureyri.
Details: This nearly sold-out cruise currently has only balcony cabins left which start at around £6,616 per person, double occupancy, for an obstructed view. (£7,418 will get you the same cabin, plus some extras: £75 off up to three shore excursions per person, an alcohol package, speciality dining and Wi-Fi.) The 24-night sailing on Nieuw Statendam departs from Boston on 3 August 2022. For more information, see the Holland America website.
Indonesia's tropical islands with Lindblad Expeditions

Lindblad Expeditions brings impressive itineraries to the table, but along with those come eye-popping cruise fares. If the sky's the limit when it comes to your budget, however, consider Lindblad's sailing to (or from) the islands of Indonesia in fall 2022. Departing from Bali, National Geographic Orion will take you to Solomon Island via Komodo Island, Raja Ampat, Samarai Island and more. The reverse itinerary is also available.
Known for its stunning colours, pristine beaches and unparalleled snorkelling and diving, this area of the world is ideal for those who enjoy tropical climates and plenty of time outdoors.
Details: National Geographic Orion will depart for the 21-night Bali-to-Solomon Island sailing on 7 October 2022, and the 21-night Solomon Island-to-Bali cruise on 28 November 2022. These voyages start at £1,4582 per person, double occupancy — a staggering £695 per person, per night — for an oceanview stateroom. The price includes meals, alcohol (except premium brands), excursions, gratuities, taxes and fees. It does not include Wi-Fi, laundry or other onboard purchases.
Flights are also not included, and since these trips don't end in the same port where they begin, airfare will be another considerable expense. (For option one, passengers will need to fly to Bali, then from Solomon Island to Brisbane and Brisbane home. For option two, they will have to fly to Brisbane, from Brisbane to Solomon Island and then from Bali home.) You can learn more about these offerings on Lindblad's website.
Russia's White Sea with Hurtigruten

Hurtigruten Expeditions' new itineraries are so impressive, we're including a second one as a recommendation. This time, the line's Spitsbergen will spend 17 days cruising the White Sea, featuring Norway and Russia. Highlights of the trip are the Norwegian fjords, Norway's Lofoten Islands and North Cape, as well as Murmansk and the Solovetsky Islands in Russia.
These ports will give passengers a chance to witness some of the region's arctic beauty and experience small fishing towns as well as larger cities, such as Bergen, Norway, from which the sailing departs.
Details: MS Spitsbergen sets sail from Bergen on 6 October 2022, for this 17-day expedition trip. Prices begin at £6,121 per person, double occupancy, for interior accommodations. Details can be found on Hurtigruten's website.
Planning a cruise? Start with these stories:
Featured photo courtesy of Hurtigruten Expeditions/Shutterstock.
Sign-up Successful!
Welcome to The Points Guy!