The 3 airport areas I'm avoiding until I'm fully vaccinated
This post contains references to products from one or more of our advertisers. We may receive compensation when you click on links to those products. Terms apply to the offers listed on this page. For an explanation of our Advertising Policy, visit this page.
Throughout the pandemic, we've largely been responsible for ensuring our own safety. Sure, initial lockdowns made it all but impossible to eat out, go to a gym or travel, but there's always been the risk of COVID-19 exposure, whether we're passing through an airport halfway around the world or just during our weekly shop.
Great ventilation and enforced mask mandates help keep aeroplanes relatively safe — though I won't book a flight just for fun, as I may have done in the past — but plenty of other steps during a passenger's journey can add significant risk.
As outlined by The Washington Post last week, Harvard University researchers evaluated the risk facing travellers throughout their journey and had some important tips to pass along.
While the report acknowledges that some steps airports have taken can help mitigate spread, the authors note that airports still need to "analyze and optimize ventilation systems where feasible; reduce congestion where possible; and regularly remind travellers of critical behaviours – mask-wearing, physical distancing, and hand hygiene."
Researchers released a list of 10 "reminders," to help minimise risk during your journey:
Follow testing and quarantine requirements prior to or upon airport arrival. Be part of the solution.
Monitor COVID-19 symptoms. When sick, isolate. Don't fly. Be responsible.
If exposed to someone positive for COVID-19, follow CDC recommendations to quarantine and test.
Plan your trip through the airport – those steps from the curb to your gate – maintaining physical distance.
Wear your mask at all times and do not remove it except for very short periods to eat or drink.
Disinfect hands after touching surfaces such as check-in machines, TSA security bins, or bathroom fixtures.
Minimise time in restrooms and avoid crowded restrooms, even though they have negative air pressure.
Avoid crowded areas, such as boarding gates, until time to do so. Find less crowded areas to wait.
Politely request face mask compliance from someone not doing so. If refused, alert an airport employee.
On arrival, maintain distance when retrieving checked baggage.
As we continue to hear, wearing a robust, properly fitting mask is absolutely essential, especially with the risk of more contagious variants making the rounds, but I've added extra precautions, especially when it comes to my travel routine. (Note that I am based in the U.S. and not subject to the U.K. current lockdown measures.)
With so many unknowns when it comes to ventilation — namely, there's no way to be certain that an infected, maskless traveller hasn't recently spoken, coughed or sneezed in that same space — I'm being especially cautious when it comes to airports, limiting time spent in three key areas.
Airport lounges

We all love a good lounge, and soon I'm sure we'll be eating, drinking and enjoying the various other amenities once again. For now, however, lounges present an increased risk.
Occupants are more likely to be eating and drinking, given the snack spread and open bar, and it can be difficult to avoid crowding, especially during peak times.
Airport lounges also tend to be filled with high-fare customers, who airline employees may be more hesitant to upset — a lounge attendant might be inclined to look the other way if they spot a maskless guest, and assume they're "eating and drinking," or intend to soon.
Perhaps most important, though, many lounges are located in smaller sub-sections of the airport, often behind closed doors and with limited airflow, which means COVID-19 particles can linger in the air lounge after an infected traveller has left.
Restaurants and food courts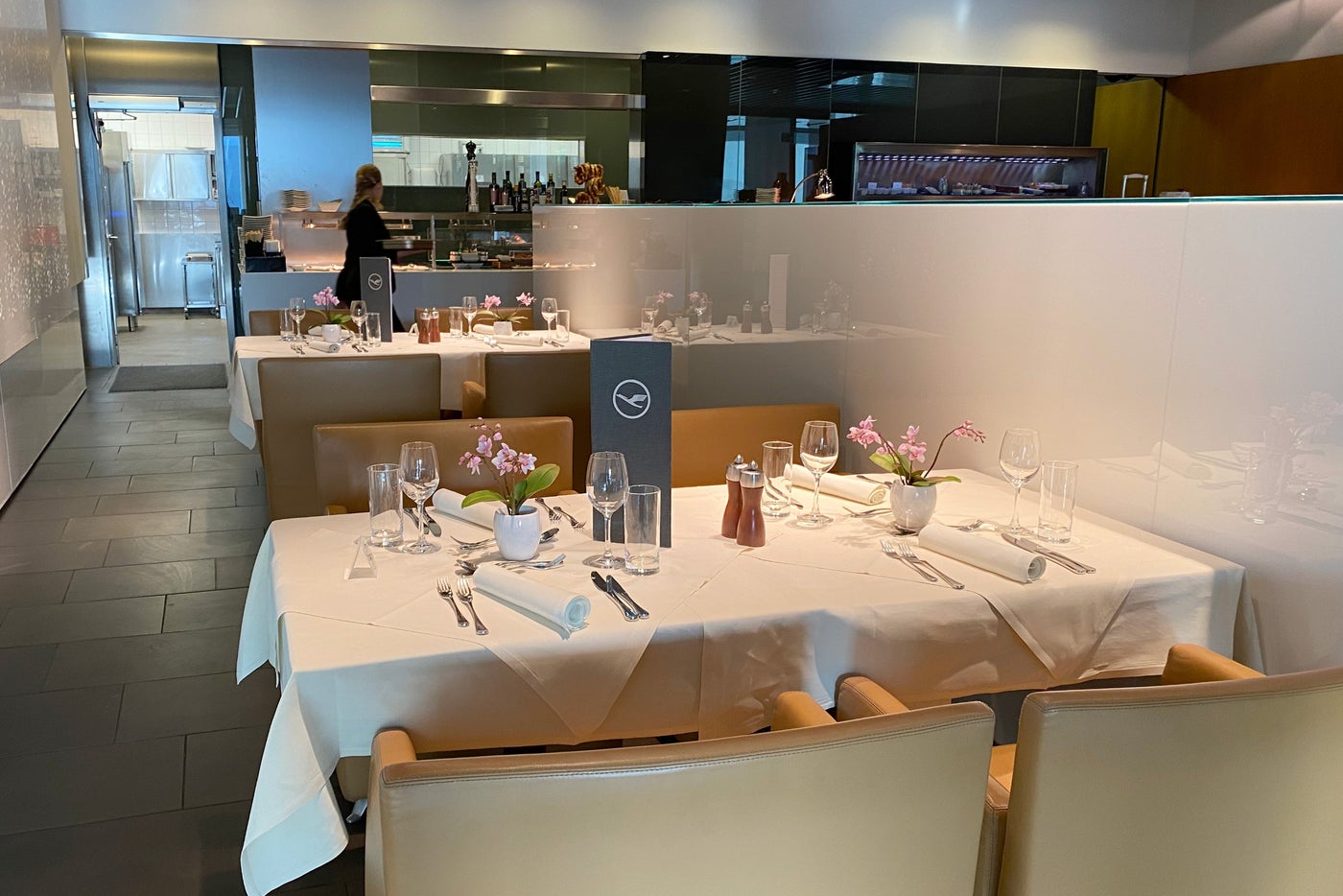 If airport lounges present a high risk of encountering travellers without masks, at restaurants and food courts, it's absolutely guaranteed.
Lively environments also mean customers will be talking more loudly, while alcohol can lead to more laughter and less distance — all contributing factors when it comes to exhaling (and inhaling) aerosol particles, and spreading COVID-19.
Food courts could be a slightly safer alternative, with more spacing and the potential for smaller crowds, but if you need to eat or drink, the best option is to find a quiet corner of the airport and remove your mask for very short periods of time.
Crowded Toilets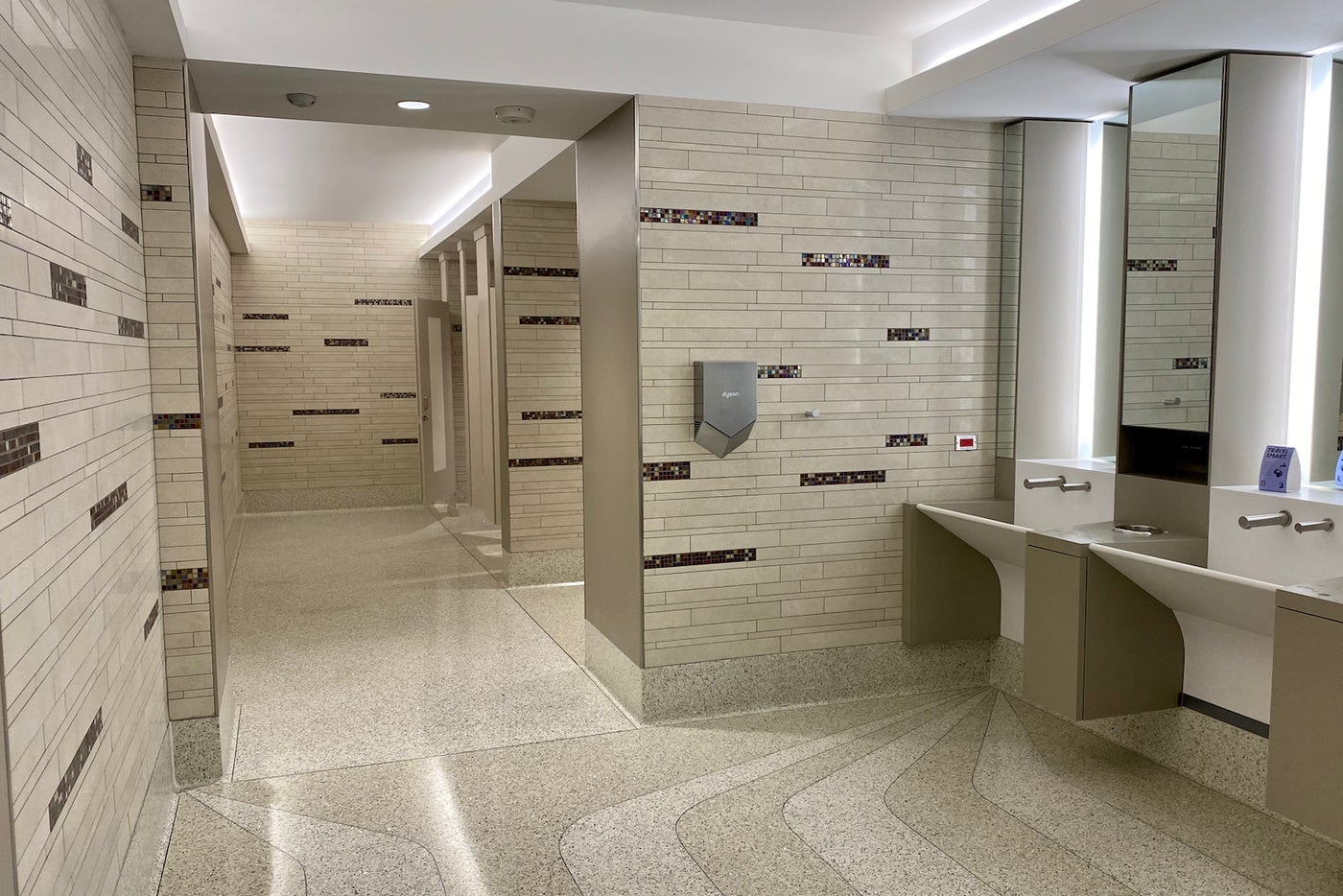 This one may be unavoidable, especially after a long flight, but for one reason or another, I almost always encounter maskless travellers in the loos.
Some may have a legitimate need to remove their mask, to shave or brush their teeth, but there otherwise seems to be an unwritten rule that you can pull your mask down to your chin as you go about your business.
Let me assure you, it's entirely possible to keep your face covered up in the loo, but since so many people choose not to, I consider public toilets to be especially high risk. A flushing toilet can also contribute to the spread of COVID-19.
I'll only enter a public restroom when wearing a properly fitting N95 mask, and I always count backwards from 60, making sure I'm in and out as quickly as I can be.
Bottom line
While the best way to limit your exposure is to avoid travel altogether, if you are going to fly, it's essential to wear a proper mask whenever possible and be especially thoughtful about every step of the process, from the time you leave your home to the moment you arrive at your hotel room.
Once the pandemic is behind us, we'll all be travelling the world yet again. There are plenty of good times ahead — we just need to get through the next few weeks and months.
Featured photo by Zach Griff/The Points Guy.
Sign-up Successful!
Welcome to The Points Guy!