Lufthansa flying its Boeing 747, Airbus A350 on select intra-Europe routes this summer
This post contains references to products from one or more of our advertisers. We may receive compensation when you click on links to those products. Terms apply to the offers listed on this page. For an explanation of our Advertising Policy, visit this page.
Here's something you don't see often: Lufthansa plans to fly its Boeing 747-8 and Airbus A350 wide-body aircraft on two short-haul routes this summer.
As reported by Paddle Your Own Kanoo, the German airline's 364-seat 747-8 will fly between Frankfurt (FRA) and Palma di Mallorca (PMI) on four Saturdays between mid-July and early August, which are typically peak times for European leisure travel.
We rarely see planes this large fly intra-Europe. This route is typically operated by an A320, so the upgrade signals a surge in demand for European leisure travel this summer as lockdown measures loosen and borders reopen.
Unfortunately, both Germany and Spain are currently on the U.K.'s amber list meaning self-isolation and expensive COVID tests on your return to the United Kingdom.

The plane is equipped with four cabins: economy, premium economy, business and first class. That said, you can expect to receive standard intra-Europe service in both economy and business.
You can also select some premium economy seats without paying an extra fee. That said, I was not able to select a first-class seat on a business class booking. These may be saved for Lufthansa HON Circle elites.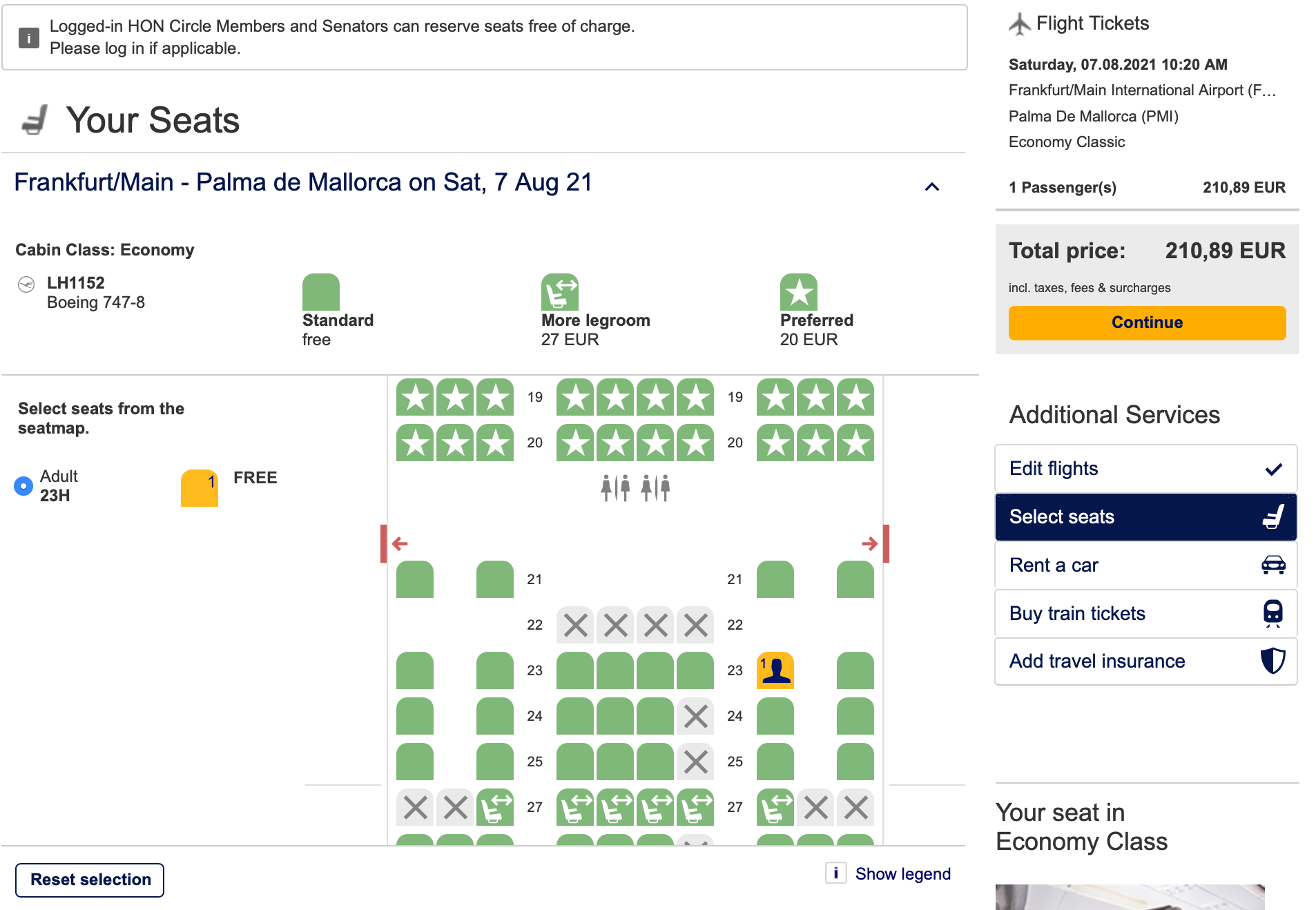 Further, Lufthansa is also flying its newest plane — its Airbus A350-900 — from Munich (MUC) to Mallorca as a one-off service on July 31. This represents a huge upgrade from the A320 that normally operates this route.
This A350 is equipped with proper international business class and premium economy seats, so it's sure to provide a more comfortable ride.

Related: Lufthansa Group Says It's Committed to Keeping First Class
Pricing and award space
Most flights on the Frankfurt to Mallorca route start at around £159 one-way on the 747-operated flight in economy class this summer. The cheapest business class ticket I found on this route was £270 one-way, which may be worthwhile if you're based in Europe and want to sample Lufthansa's lie-flat business class.
Unfortunately, I wasn't able to find saver award space on this route.
Related: Want to book Lufthansa first class? Focus on these routes
Bottom line
It's really cool to see Lufthansa bring two of its best airplanes to intra-Europe routes this summer. To me, it's a sign that European travel demand is picking back up as the coronavirus pandemic subsides around the region.
If you're an AV geek flying from the U.K. to Mallorca this summer, you may want to route your flights through Frankfurt or Munich. This is a special opportunity to fly the Queen of The Skies on a very nontraditional route.
Feature photo by Lufthansa
Sign-up Successful!
Welcome to The Points Guy!