How to keep your skin glowing while travelling
This post contains references to products from one or more of our advertisers. We may receive compensation when you click on links to those products. Terms apply to the offers listed on this page. For an explanation of our Advertising Policy, visit this page.
You only have to take one long-haul flight to know it leaves your skin dry, dull and dreary. The dry cabin air can suck moisture from your skin and the recirculated air leaves your skin in need of a good cleanse by the time you have got to your destination.
Vitamins, increasing water, limiting alcohol and eating well on board will only do so much to keep your skin hydrated. You ideally need the help of skin products to encourage hydration and this should start even before you board. Below is our guide to some of the best skincare products and how to use them while on your travels.
Follow The Points Guy on Facebook and Twitter, and to ensure you never miss anything, subscribe to our daily newsletter.
Pre flight care
The trick pre flight is to use as little product as possible to allow your skin to breathe but get the maximum hydration to give your skin a little moisture prep before you travel. We recommend the following:
Emma Hardie Moringa Cleansing Balm with Cleansing Cloth — £47

Make sure your skin is as clean as it can be before you travel. Touted as the holy grail of cleansers, this balm removes impurities whilst maintaining moisture so your face will feel soft and silky for your flight.
Estēe Lauder Double Wear Stay-In-Place Makeup — £34

Minimise your make-up use with just the basics to let your skin breathe. This foundation gives your skin a natural finish but is also a 24-hour stay-in-place product so will keep your skin beautiful even if you sweat running for your boarding gate.
Read more: Things you should do before, during and after flying to stay healthy
During Flight
Try to cleanse as soon as you can after take off as the dehydration factor may leave your make-up and other products not looking their best. Cleansing your face is the first step in your inflight skin routine and most important as that helps other products absorb when used post-cleanse.
thisworks In Transit No Traces — £18

Not only is this a high-performance cleanser, it's suitable for sensitive skin and you can cleanse on the go as it comes in pad format. Another perk is that it doesn't count as a liquid when going through airport security.
Deciem Hyaluronic Acid 2% +B5 — £5.90

Cabin air is around 20% humidity compared to 40 to 60% on the ground so this means your skin will be crying out for moisture. Hyaluronic acid (HA) is a gel-like molecule which helps keep skin plump and hydrated and it's produced naturally in the body. You would use this before a moisturiser or oil as combined, it helps lock in moisture for the duration of your flight.
REN Rose O12 Moisture Defence Oil — £42

This hydrating oil is best for those who suffer for dry skin anyway so perfect for frequent flyers. It's great paired with HA and will help your skin re-energise and be radiant by the time you land.
Kiehl's Ultra Facial Cream — £24.50
Prefer a moisturiser over an oil? Ideally use a thicker moisturiser when in the air to keep your skin hydrated for longer. This cream does exactly that as it contains squalene and glacial glycoprotein and suits all skin types.
Masks
It's becoming more normal to see fellow passengers in a sheet mask mid flight. People are doing it to get an extra boost of hydration while they sleep. Usually treatments are sold as a complete face mask or just for under the eyes which allows you to be a bit more functional when using. It's a good idea to apply the HA under these masks for extra benefits. We recommend:
Dr Dennis Gross C+ Collagen Biocellulose Brightening Treatment Mask — £17
Infused with vitamin C which help brighten the skin while you fly, this one is also designed to fight environmental aggressors on the skin so it contributes to the firmness of skin tone and texture. You place onto cleansed, dry skin and leave on for your desired time then massage in the remaining product. Follow with moisturiser or oil.
Patchology FlashPatch Illuminating Eye Gels — £14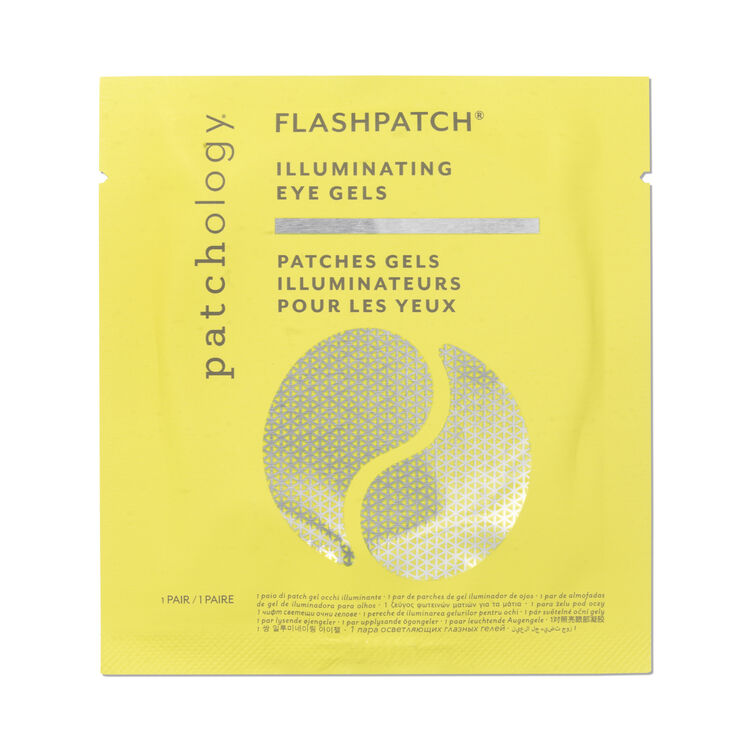 These eye patches contain green tea to help minimise the look of dark circles, vitamin C for brightness and mulberry extract for a hit of antioxidants. Simply place under clean and dry eyes for five minutes or longer and wait for the results.
Aeēsop Resurrection Rinse-Free Hand Wash — £7
For the times when you aren't offered a hot towel and the bathroom is busy, it's a good idea to use a hand sanitiser which is non-drying and leaves your hands smelling of citrus.
Read more: Should I take supplements during air travel?
Post flight
When you get to your destination, it's important to ensure you try to cleanse as soon as possible and then aim to keep your skin moisturised for the duration of your trip. It's recommended to use an SPF on top of your moisturiser to prevent skin damage from harmful UV rays. Try to get an SPF that is either in your moisturiser or get a lightweight SPF to go on top.
Ren Clean Screen Mineral SPF 30 — £30
This sunscreen is a favourite as it's mattifying — so no shine — and it's from naturally-derived ingredients. It's suitable for sensitive skin and also not too thick so won't clog pores.
Evian Brumisateur Facial Spray — £3.50
Perfect for a spritz on a hot day to make your skin feel refreshed. Use on board or even at the beach for a hit of hydration or to help you cool down.
Featured image by Getty Images/Westend61
Sign-up Successful!
Welcome to The Points Guy!