Which trains are still running today and which ones are not?
This post contains references to products from one or more of our advertisers. We may receive compensation when you click on links to those products. Terms apply to the offers listed on this page. For an explanation of our Advertising Policy, visit this page.
A staggering half of Britain's rail lines have shut down today as the largest industrial strike for a generation puts a stranglehold on public transport across the country.
But what does this all mean for you if you're planning to travel by train during one of the strike days this week, and how can you claim compensation?
For more TPG news delivered each morning to your inbox, sign up for our daily newsletter.
When is the rail strike happening?
On Tuesday (21st), Thursday (23rd) and Saturday (25th), the number of passenger services nationwide is expected to fall from 20,000 to 4,500 or less when members of RMT union across network rail and other train operators go on strike for better pay and working conditions.
Londoners should also brace themselves for a hugely reduced service on all Underground and Overground lines (including the brand-spanking-new Elizabeth Line) on Tuesday, as Transport for London (TfL) chiefs warn travellers of 'severe disruption or no service' 'on all Tube lines when staff will also walk out.
Which trains are not running?
London
Twickenham, Kingston and Bromley are some of the key stations that will close. See below for details on how the Tube will be affected.
Southeast England
Nothing between Waterloo and Guildford or Portsmouth. The line that connects Brighton to Southampton, Eastbourne and Ashford will close. Crawley, Horsham, Arundel, Chichester, Worthing, Tonbridge, Hastings, Ramsgate and Margate are among the many stations closed to trains in the region.
East Anglia
Nothing to or from anywhere along the Norfolk or Suffolk coasts.
West and southwest England
Devon and Cornwall are a train-free zone today, with nothing running west from Plymouth or Exeter. The London Waterloo link to Exeter will finish west of Basingstoke, while nothing will run west beyond Southampton. Gloucester, Cheltenham Spa, Hereford and the Malverns will all be closed to trains.
Midlands
If it's off the main line then its off the grid during strikes, including Skegness, Lincoln, Worcester and Shrewsbury. There will be no trains running from Birmingham to Walsall, Hereford and Shrewsbury.
Wales
Pretty much all trains, except a gossamer-thin thread of services into Cardiff and Newport, are cancelled.
Northern England
Anywhere off the main track are off-limits for train travellers, including Chester, Hull, Blackpool, Southport, Scarborough, Whitby and Bridlington.
Scotland
Nothing north of Edinburgh, Glasgow or Falkirk will run.
What trains will be running?
Needless to say, timetables are severely limited on the routes that are running. Here's what's running, line by line.
One train per hour from Euston to each of Manchester, Liverpool, Birmingham and Preston, with a limited service onwards to Glasgow.
Two trains per hour from Fenchurch Street to Shoeburyness via Laindon and to Pitsea via Rainham.
One train per hour in each direction between London and Banbury.
A "very limited service" will run between Bristol Parkway, Plymouth, Birmingham New Street, Newcastle and Edinburgh Waverley.
Ane train per hour between Nottingham and Sheffield, as well as from both cities to London. There will also be an hourly train between Corby and London, and one train per hour from Derby to Nottingham and Matlock. The Leicester to Nottingham service will also run on an hourly basis.
Three trains an hour in each direction will be running on strike days, including London to Eaglescliffe via York and London to Wakefield.
A heavily reduced service will run on some lines into London Liverpool Street, including one train an hour between Norwich and London, from 8am to 4pm.
Two trains per hour will run between London St Pancras to Luton and Bedford. One train per hour will serve King's Cross to Ely and Cambridge to Ely. Two trains per hour will go from Kings Cross to Peterborough, Welwyn Garden City, and Stevenage via Hertford North.
A very limited service between London Paddington and Oxford, Cardiff and Plymouth – with hourly trains between London and Cardiff.
A half-hourly service will operate between 07:30 and 18:30 from all the usual stations.
The only service operating is the Kings Cross to Doncaster train, finishing at 6.30pm.
One train per hour between Birmingham New Street and Northampton, one per hour from Birmingham to Crewe, and two trains per hour from London Euston to Northampton.
Limited trains will be running between London Kings Cross towards York, Newcastle, and Edinburgh, while limited services will also take passengers from London to Leeds.
35 out of 180 Southeastern stations will be open and no rail replacement buses will serve stations which are closed. Under "limited services", the St Pancras highspeed line to Ashford will run, as will the Woolwich, Bexleyheath and Sidcup lines.
Two trains an hour from London Bridge and London Victoria to Brighton, as well as between Brighton and Hove. The same goes for services from London Bridge to Gatwick Airport, and London Victoria to South London, Sutton, and Epsom Downs.
A "severely limited service" includes four trains per hour between London Waterloo to Woking and Windsor, and two per hour from London Waterloo to Southampton and Basingstoke.
Two trains an hour on Tuesday, June 21, and Saturday, June 25, and one train per hour on Thursday, with services ending just after 5pm.
Two trains an hour will run in each direction, including London Victoria and London Bridge to Brighton, and Kings Cross to Cambridge, Stevenage and Peterborough.
Five trains an hour between Manchester Airport and Preston and one an hour between Manchester and York.
One train per hour between Birmingham New Street and Wolverhampton and one train an hour between Birmingham New Street and Birmingham International every day from Tuesday to Saturday.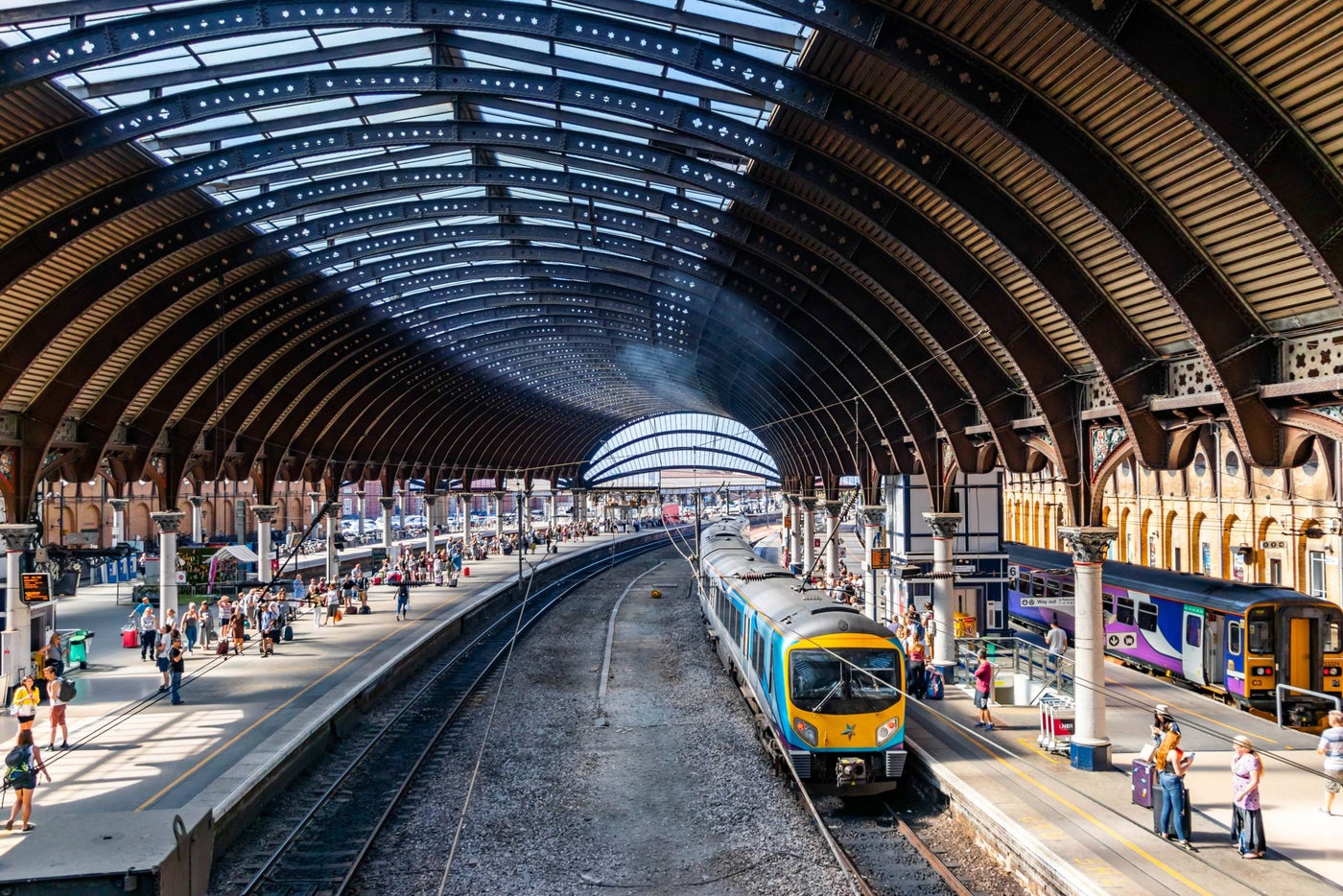 Will the rail strike affect the London Underground?
Yes. On Tuesday 21 June, London Underground staff are staging a 24hr walkout which will see all tube lines shut down until 8am on Wednesday.
Meanwhile, on the three days of the RMT's strikes there will also be a severely reduced service across the capital's Overground network, including the new Elizabeth Line.
This could also have knock-on effects for the tube, as more travellers squeeze onto its network to avoid the rail delays above ground. Hence why TfL chiefs have warned of 'severe disruption or no service' on all Tube lines until at least Sunday (26th).
The Docklands Light Railway will be in use during strike action, although you can expect it run a much more limited service with certain stations at risk of closure. Expect the service to be much busier than usual.
Is there a chance the strikes could be called off?
Not now they've begun. There was a chance they'd be called off right up until yesterday. But eleventh-hour crisis talks collapsed, with the RMT union warning that industrial action will "run as long as it needs to run".
The RMT general secretary, Mick Lynch, said the rail dispute could not be resolved without the government "removing the shackles" on Network Rail and train operating companies.
Why exactly are rail workers walking out?
The RMT claims Network Rail plans to slash 2,500 jobs, mainly in the areas of track, signal and overhead line maintenance, as part of a £2 billion cost-cutting exercise.
It is also unhappy that many of its members have not received a pay rise for more than two years since a wage freeze meted out during the pandemic.
And now its leadership have pulled the trigger on the planned walkout after TfL and Network Rail offered neither guarantees against redundancies nor the promise of pay rises for staff.
Am I entitled to compensation if I'm affected?
Refunds for National Rail users
If you've booked a National Rail train ticket in advance of the strike you should be entitled to claim a full refund or rearrange your journey without an additional fee.
National Rail says: "If your service has "been cancelled, delayed or rescheduled [by strike action] you will be entitled to a change or refund from the original retailer of your ticket. If you have purchased an Advance, Off-Peak or Anytime ticket and choose not to travel, you will be eligible for a change or refund from the original retailer of your ticket."

Online booking supremo Trainline has also promised full refunds to those affected: "If you think the rail strikes might affect your upcoming journey, there's no need to worry — if you've booked with us and your train has been cancelled or rescheduled, you will be entitled to a fee-free refund if you choose not to travel, or you can rearrange your trip without a fee."
What about compensation for season ticket holders?
While you can't hit pause on a rail season ticket, extending your days of validity following any strike action, you can claim refunds for your lost days.
"If you have purchased a Season Ticket and would like a refund due to RMT strike action affecting your journey, you can apply for a refund from the original retailer of your ticket," says National Rail. "Please note you will need to surrender your Season Ticket back to the original retailer and an admin fee of no more than £10 may apply. Season Tickets cannot be 'paused' due to industrial action.
Helpfully, the National Rail website even has a season ticket refund calculator to help customers work out the compensation owed.
What about refunds on the London Underground?
No. Having warned customers in advance of the strike, TfL will not offer reimbursements for the severely reduced services, nor will not refund for any issues it says are 'outside of our control'.
How do I claim a refund if entitled to one?
The speed and method of 'Delay repays' can vary from rail provider to rail provider but you will be covered on National Rail. If you know the provider you were meant to be using on the day of travel, visit their website to see how to put in a claim.
Passengers on Avanti West Coast, for example, can find an online form which allows those scheduled to travel between 21-16 June to rebook within 28 days of the scheduled journey date or claim full refunds, without any admin fees.
However, if you do brave the trains on the day of the strikes, keep a note of any wait times during delays and keep receipts in the case of disruption. Should any rail firms push back on your compensation claims, reach out to the Rail Ombudsman, a wonderful non-profit that provides free advice on how to get your money back.
Will strike action affect travel to airports?
Absolutely. Prime yourself for severe delays on all railways heading to any U.K. airports, even those privately run Express networks that go direct to London airports. Keep an eye on the websites to keep abreast of cancellations if you do want to chance it.
Related: How much does Elizabeth Line to Heathrow cost? We break down the cost for zones

Heathrow Express from Paddington to London Heathrow (LHR) will stay in operation on days hit by strikes, but it's shaping up to be an increasingly limited service — while officials for the Gatwick Express are asking passengers to only travel by rail to Gatwick Airport (LGW) if their journey is "absolutely necessary."

"Between Tuesday 21 June and Sunday 26 June inclusive, please only travel if your journey is absolutely necessary, and expect severe disruption," said Gatwick Express. "The railway will operate limited opening hours with services starting later and finishing much earlier than usual. On strike days, the last trains will finish late afternoon. Please check your first and last trains carefully, as there will be no alternative travel outside of these services.
All express services will offer full refunds and even allow you to re-book. Although don't expect to move the dates forward to your return flight. Stanstead Express, which is also advising "people to only travel if absolutely necessary", says that anyone who has pre-booked tickets to travel on strike days can change them, can only use them to travel on the day before or up to two days after their original travel date.
What are my other options for travel to the airport?
If there are other travel options on the table, take them. Why not use a bus if it's possible, look into National Express coaches, or drive yourself and park up (miles away from the terminal) if that suits. Failing all that, there's always a trusty taxi.
Earlier this month, TPG writer Ben Smithson won a race to Heathrow airport from central London travelling in a black cab, beating his colleagues who used the Heathrow Express and the Elizabeth Line respectfully. It cost him upwards of £70 for the trip, but if you're in an emergency it's one of the speediest ways to reach the U.K.'s busiest airport.
Related: Watch us race to London Heathrow – Elizabeth Line vs Heathrow Express vs Taxi
Do bear in mind that Ubers are likely to be on surge pricing throughout the week, particularly on days hit by the strike when everyone and their dog looks to book one, making spontaneous plans to the airport a tad bit more difficult.
Why not upgrade to Exec Uber during peak times for more chance of getting a ride as everyone else scrambles for a bog standard Prius. Sure, a better ride is a bit costlier, but just think of all that extra room for suitcases too.
Above all, be sure to check all transport options and expect roads and routes to be a little busier than normal. And plan ahead as much as possible.
Otherwise it's all aboard the Disappointment Express: calling at isolation, confusion and despair.
What is the government saying?
A lot of hot air, in short. Senior ministers have been attempting to pile pressure on unions in the hopes of thwarting the proposed industrial action at the 11th hour, but an increasingly barbed tone suggests No.10 is powerless to stop the planned action.
Related: Worse still to come? Airlines urged to cancel flights now to avoid travel chaos
Speaking to LBC this week, Deputy Prime Minister Dominic Raab said: "I think the strike action by the RMT union is deeply irresponsible. Of course, we need to look again at the structure of our railways. We've provided a huge subsidy to see them through the pandemic and, as working and commuter habits change, of course, we've got to look at that sensibly."
Featured image by Richard Heathcote/Getty Images.
Sign-up Successful!
Welcome to The Points Guy!