Singapore Airlines resumes retrofitting A380s with new cabins, much-improved suite
This post contains references to products from one or more of our advertisers. We may receive compensation when you click on links to those products. Terms apply to the offers listed on this page. For an explanation of our Advertising Policy, visit this page.
In another sign that global travel restrictions aren't here to stay, Singapore Airlines has begun recalling parked Airbus A380s and bringing them back up to Changi Airport for extensive updates.
9V-SKQ, a nine-year-old superjumbo, was the first to be recalled from its temporary home at Australia's Alice Springs Airport (ASP) — most of Singapore's A380s have been grounded for much of the pandemic, given the country's strict entry restrictions and a global drop in demand.
From here, the carrier will begin removing the old seats from both floors of the giant double-decker plane, replacing them with much-improved first-class suites and business-class seats, along with Singapore's latest premium economy and coach products.
Related: Singapore Airlines launches A380 plane restaurant
Onboard, it's a complete shift. The carrier's newest A380s feature six first-class suites and 82 business seats on the upper deck, along with 44 premium-economy recliners and 343 regular coach seats on the larger main deck.
Depending on the configuration, older models offer 12 suites, with a 36-seat premium-economy cabin behind, followed by 245 regular coach seats — all on the main deck. Upstairs is entirely business class, with a total of 86 seats. In other words, updating these planes is no small task.

Naturally, the most dramatic transformation will take place in first class — 12 suites will be removed from the main deck, and six will be installed upstairs, complete with dividing walls, separate chairs and dedicated beds. The new version offers far more personal space than its predecessor, even though the original suite is still incredibly competitive.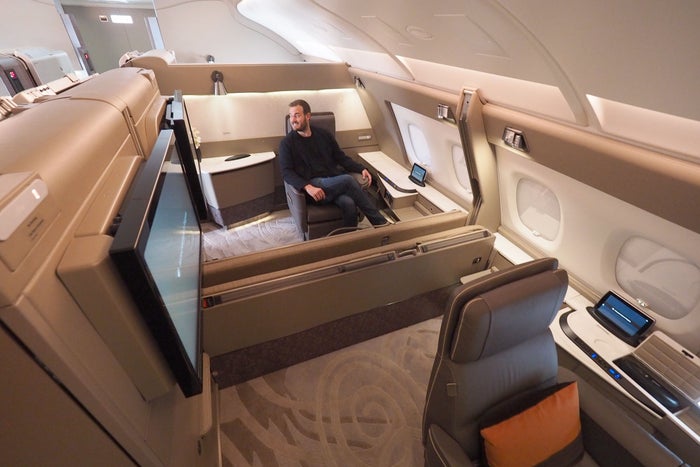 As of now, there are nine Singapore A380s with the new layout — five were delivered with the latest products, and four have completed the retrofit process. The remaining 12 A380s are slated to be complete within the next two years.
Ultimately, having more superjumbos with the latest cabins gives me hope that we'll one day see Singapore's latest suites fly to the U.S. Before the pandemic, the carrier operated one-stop A380 service between New York-JFK and Changi Airport (SIN), via Frankfurt (FRA). That's been replaced with an A350-900ULR nonstop flight between JFK and SIN for now, but if there's enough demand for a second New York flight, we could see the A380 eventually return.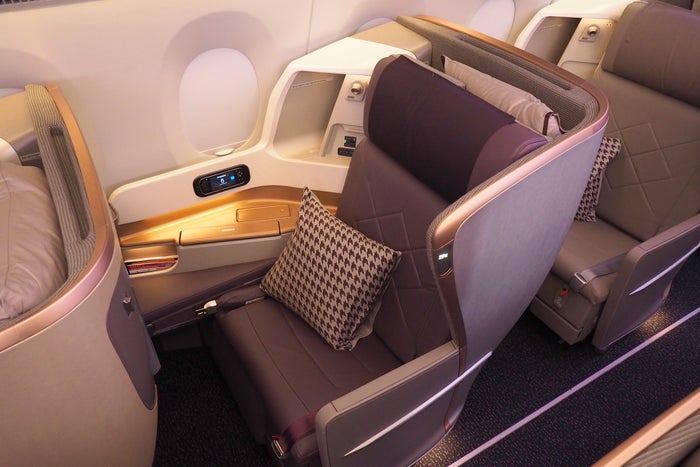 Of course I'm excited that there will soon be more opportunities to experience one of the world's best first-class suites, but I'm thrilled to see that Singapore is continuing to invest in the A380 — it's clear that the carrier expects demand to eventually return, and, at least for now, doesn't plan to retire its superjumbo fleet.
Featured photo by Zach Honig/The Points Guy.
Sign-up Successful!
Welcome to The Points Guy!