Deal Alert: Get 12 Virgin Points per £1 spent with Booking.com
This post contains references to products from one or more of our advertisers. We may receive compensation when you click on links to those products. Terms apply to the offers listed on this page. For an explanation of our Advertising Policy, visit this page.
If you're a member of Virgin Red, summer has started early…
From today (5 May) to Tuesday 7 June 2022, Virgin Red members can earn 12 points for every £1 that they spend with Booking.com – up four points compared to the normal going rate.
For more news delivered each morning to your inbox, sign up for TPG daily newsletter.
With travel nearing pre-pandemic proportions again, the good folk at Virgin have decided to offer members over 150 types of points rewards, ranging from lattes to film passes to concert tickets to flight upgrades and more.
But this Booking.com offer, in particular, stands out: with thousands set to start hatching their plans for a big 2022 getaway, it might even be possible to save so many points that you can book a second trip this summer.

Virgin Red have laid it out as such: "By earning 12 points per £1 on a five-night stay in Cornwall for example, with the accommodation costing between £500 and £800, members could earn enough points to book a free flight to a European city, an upgrade to a premium flight, tickets to a comedy night out, a Harrods cream tea for two, or a two-course meal for two with prosecco at a Raymond Blanc brasserie."
Those with bigger budgets, "spending £1,500-£2,000", it added, "could soon be booking concert tickets in the exclusive Virgin Red Room at Manchester's AO Arena, a spa day for two or even a flight to New York".
Here's a breakdown of what your Virgin Points can bag you:
Sausage Roll (200 points)
Cup of coffee (325 points)
Vue film tickets (1,350 points)
Donate to the UN Refugee Agency, UNHCR (1,000 points)
Paintballing day for four (7,500 points)
Premium one-way upgrade on Virgin Atlantic (8,000 points)
Economy reward flights (18,000+ points)
Bahamas and St Lucia flights (20,000+ points)
Booking.com customers will also still be able to access their Genius benefits while earning some of these generously awarded Virgin Points as part of this exclusive offer.
Related: How to earn 1,250 Avios points from a £30 hotel stay
"Booking.com is a fantastic partner offering many UK & European accommodation options for our members to choose from, "said Richard Moore, Director of Partnerships at Virgin Red, "so we are really pleased that they are part of the Virgin Red family. Members should definitely be taking advantage of this Booking.com exclusive offer, earning even more points which they can spend in whatever way they like — whether that's an everyday treat or an extraordinary experience."
He's not wrong either. The Booking.com deal also comes after Virgin Trains Ticketing recently doubled its points offering for customers, who can earn six Virgin Points for every £1 spent on train tickets, as opposed to the usual three.

This offer, designed to dovetail with the government's "Great British Rail Sale", is still in operation and applies until 27 May, giving you yet another way to expand your points haul.
What are Virgin Points and How can you earn them?
Virgin Points is the loyalty currency of Virgin Red and Virgin Atlantic, and are a valuable mileage currency with plenty of great uses.
The first thing you need to do is sign up through the Virgin Red website.
You are given the option to link your Virgin Red account to your Flying Club account. This is a good idea because it allows you to spend Virgin Points across both reward clubs, and see all your points in one place.

You cannot earn points on train travel by booking through the Trainline website or by booking accommodation directly through Booking.com. Instead, you need to download the Virgin Red app (it won't allow you to book through the website).
Once you've signed into your account on the app, it's easy:
Go to the "earn" section
Scroll down to the "book train tickets" or Booking.com offer button
Click "get points" and it will open the booking portal of the other website.
Search for your ticket or stay, and book.
You'll usually receive your Virgin Points 56 days after your train travel date or (if you decide not to travel) the final date on which your ticket is valid. For Booking.com you will receive your points within 120 days after completing your stay.
What about earning Virgin points on other sites?
When it comes to earning points through Virgin Red's cornucopia of partner offers (see below) you'll need to follow similar steps as above, always via the Virgin Red website or app.
In other words, you won't be able to earn points through, say, Booking.com's website directly as explained above.
Related: Virgin Red launches with new ways to earn and spend Virgin Points
In that example, you would need to link your Genius account (Booking.com's own loyalty program) with your Virgin Red account. Then, make your purchase by accessing Booking.com via the "Get Points" button on the Virgin Red app or website and complete your transaction within one browsing session.
Where else can you earn Virgin points?
You can start by crediting flights from the following airlines:
Virgin Atlantic
Air France/KLM
Air New Zealand
ANA
Delta
Hawaiian Airlines
SAS
Singapore Airlines
South African Airways
Virgin Australia
Then there are also Virgin Atlantic co-branded credit cards which both come with good earning rates:
Both cards currently have limited time offers for welcome bonuses.
At present the Virgin Atlantic Reward Mastercard will earn you a welcome bonus of 2,000 Virgin Points by spending £500 within 90 days of activating your card and 0.75 Flying Club miles for every £1 spent, with the chance to double point earnings for spend with Virgin Atlantic or Virgin Holidays.
The Virgin Atlantic Reward+ Mastercard will earn 30,000 bonus Virgin Pointswelcome bonus if you spend £3,000 with the card within the first 90 days of opening your account. You'll also earn 1.5 Virgin Points for each purchase.
Related: How to earn and use 100,000 Virgin Points
Flying Club also offers a fantastic miles booster, while you can convert Tesco Clubcard points to Virgin Points as well as transfer points from American Express Membership Rewardsat a rate of 1:1.
Virgin Red also offers a huge range of ways to earn and redeem Virgin Points, including:
Booking train tickets through Virgin Train Ticketing (earn 6 points per £1);
Switching to an M Plus current account (earn 20,000 points);
Switching to Octopus Energy (up to 7,400 Virgin points);
Shopping at Dunelm (1 point per £1), B&Q (1 point per £1) and Made (3 per £1);
Signing up to Virgin Media (earn up to 10,500 Points);
Purchasing wine through the Discovery Wine Club (receive a £50 voucher plus 2,000 points);
Shopping at TK Maxx (2 points per £1), H&M (5 points per £1), ASOS (from 2 points per £1); and Adidas (4 points per £1);
Food deliveries from Just Eat (up to 25 points per £1);
Shopping at Boots (£1 point per £1);
Booking accommodation through Booking.com (8 points per £1),
That's just a slice. You can find the full list here.
There is also the ability to earn Virgin Points directly with the following hotels:
Finally, you can earn Virgin Points with miscellaneous partners like Virgin Money, Hertz and Heathrow Rewards.
Can I earn avios on train travel or with Booking.com?
Virgin Red isn't the only loyalty programme linked to these two sites.
Related: 10 ways to earn Avios you might not know about
You can earn British Airways Avios points there too. In fact, new Trainline customers can earn up to 3 Avios for every £1 spent.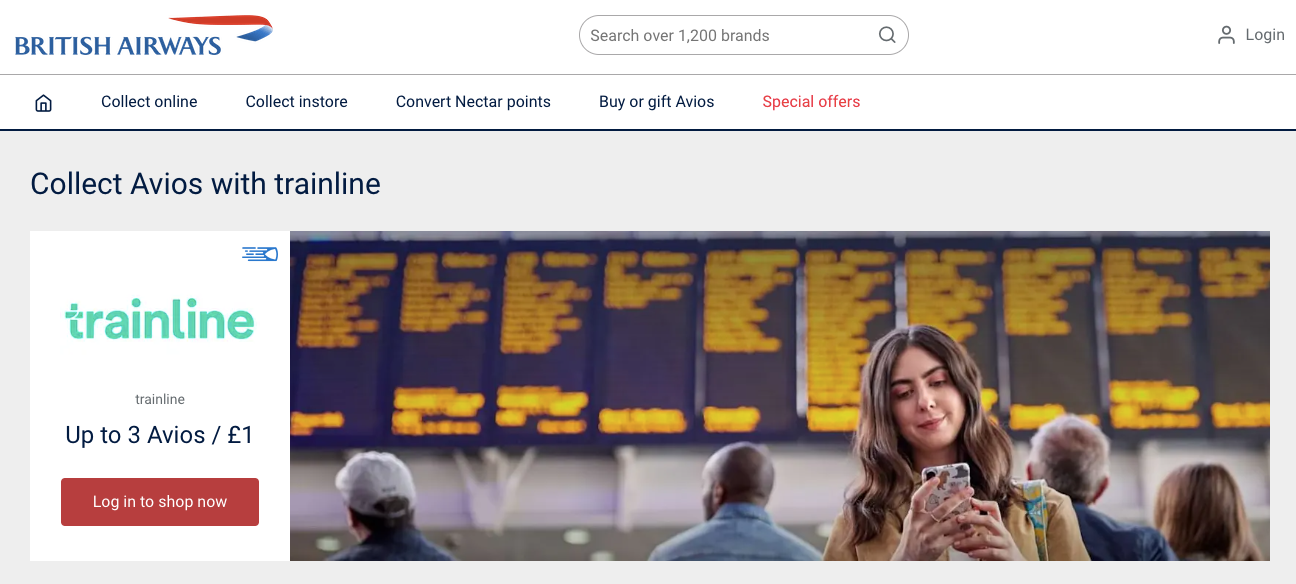 For existing Trainline customers, however, the deal's not so sweet: they only get one Avios for every £2 spent.
Similarly, using British Airways shopping portal you can earn 8 Avios per £1 spend on hotel bookings.

But remember: like Virgin Red, you cannot earn points through third party websites directly. You must book your train tickets via British Airways' online shopping portal.
Additional reporting: Matt Blake.
Featured image by Tristan Ashurst / Getty Images.
Sign-up Successful!
Welcome to The Points Guy!